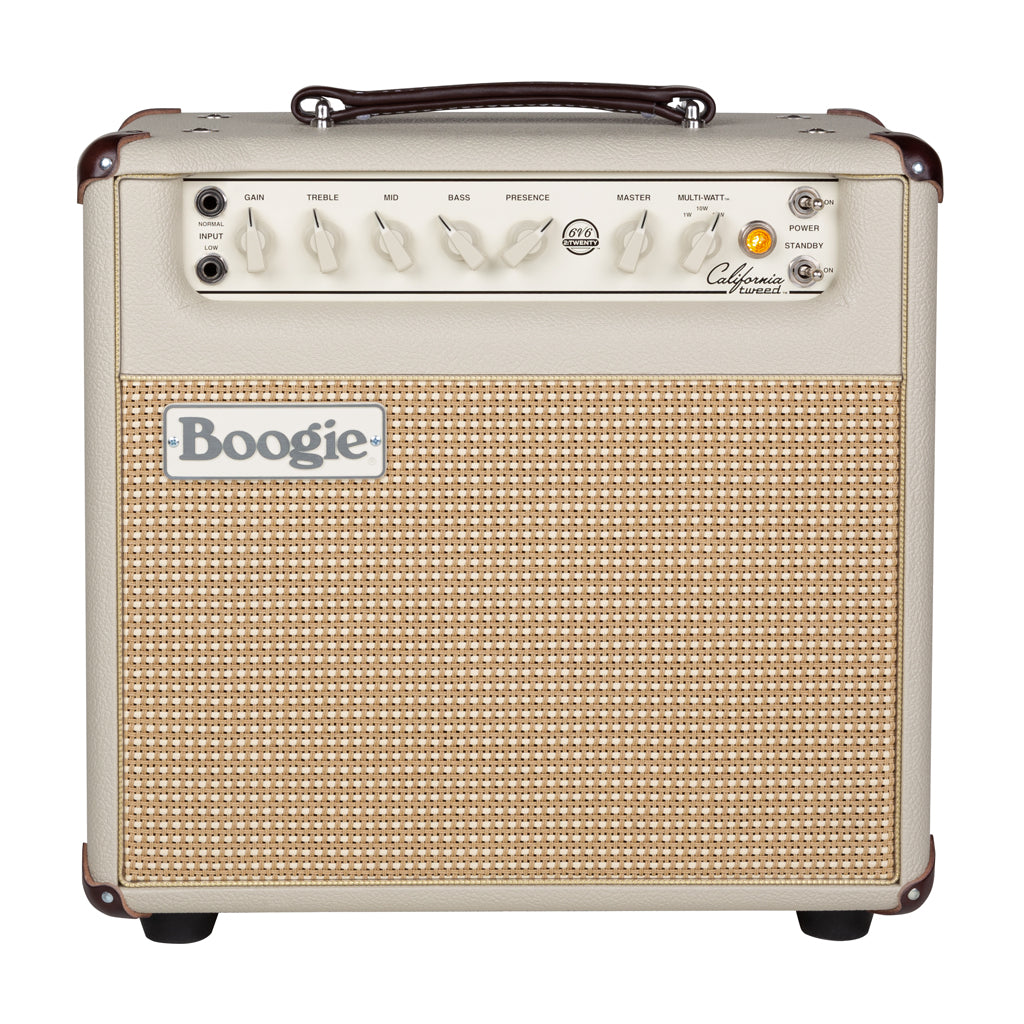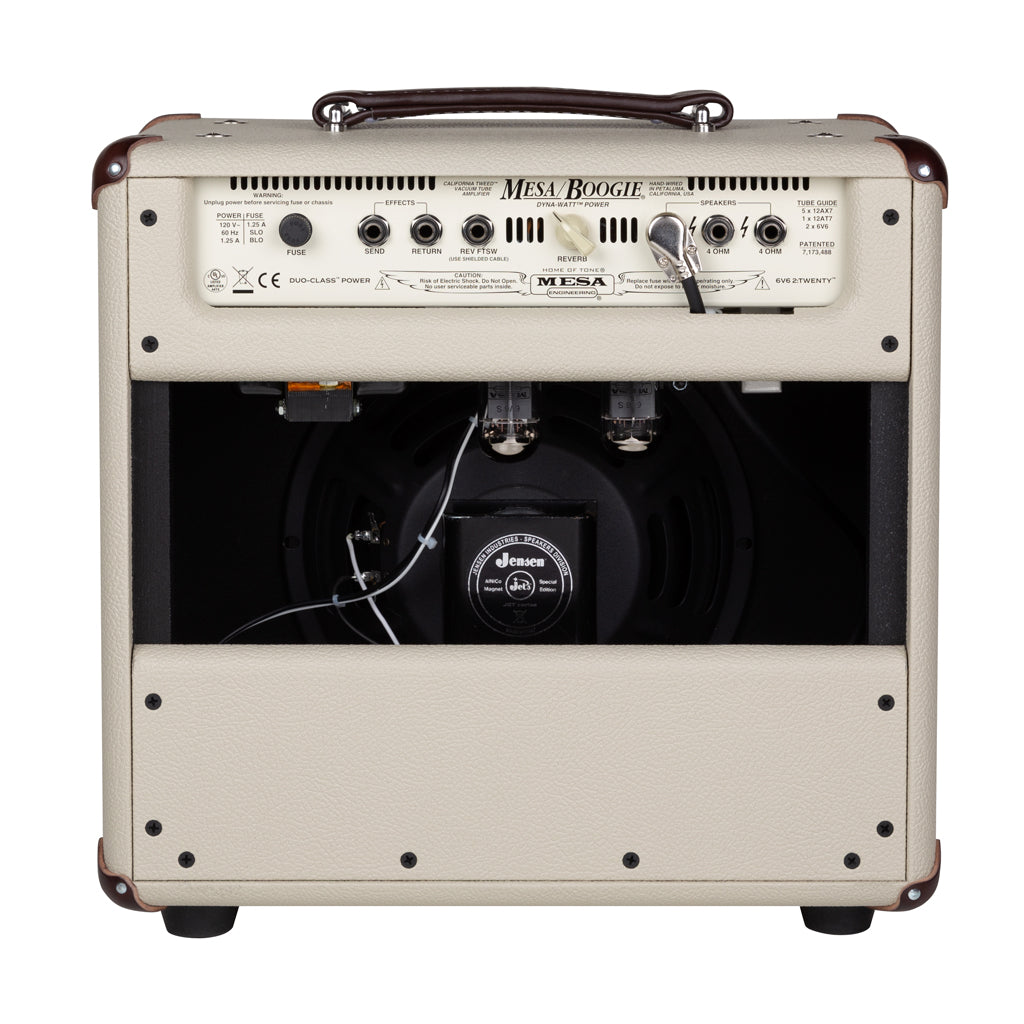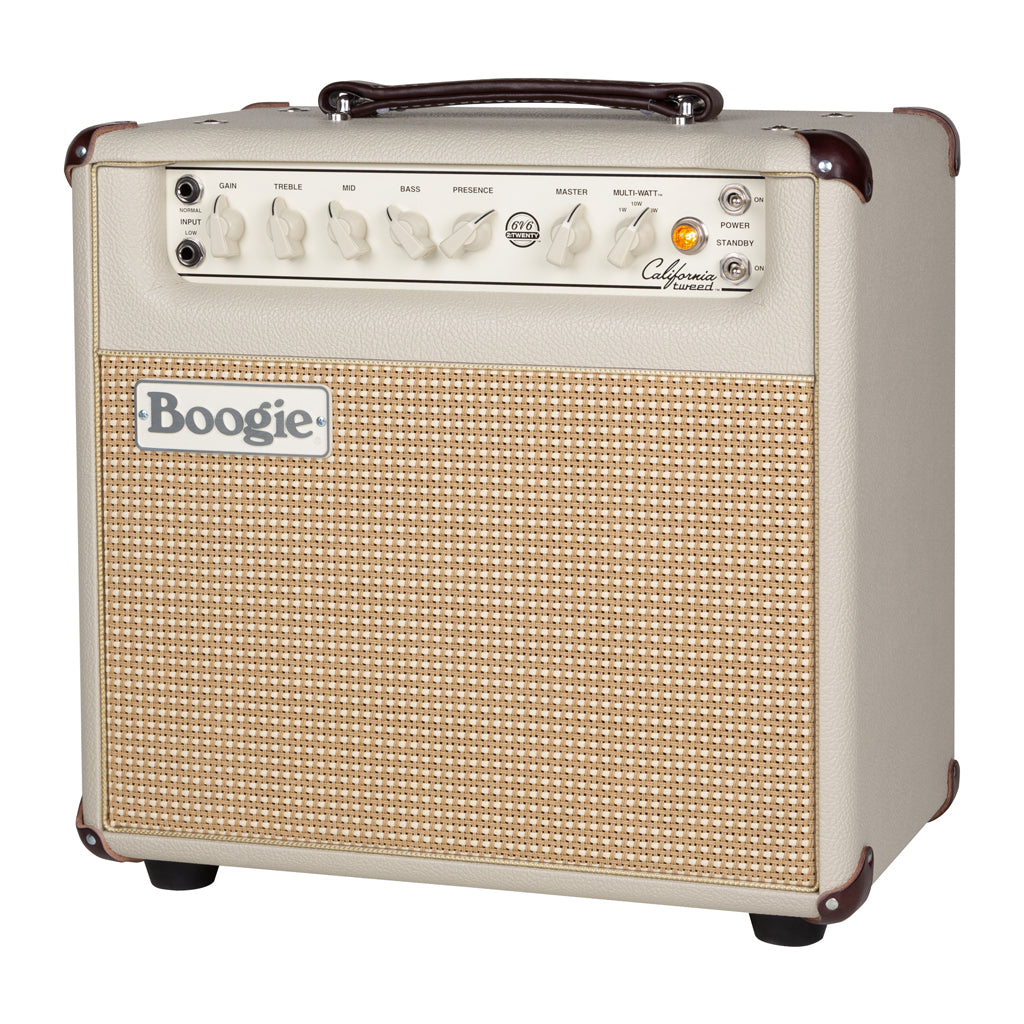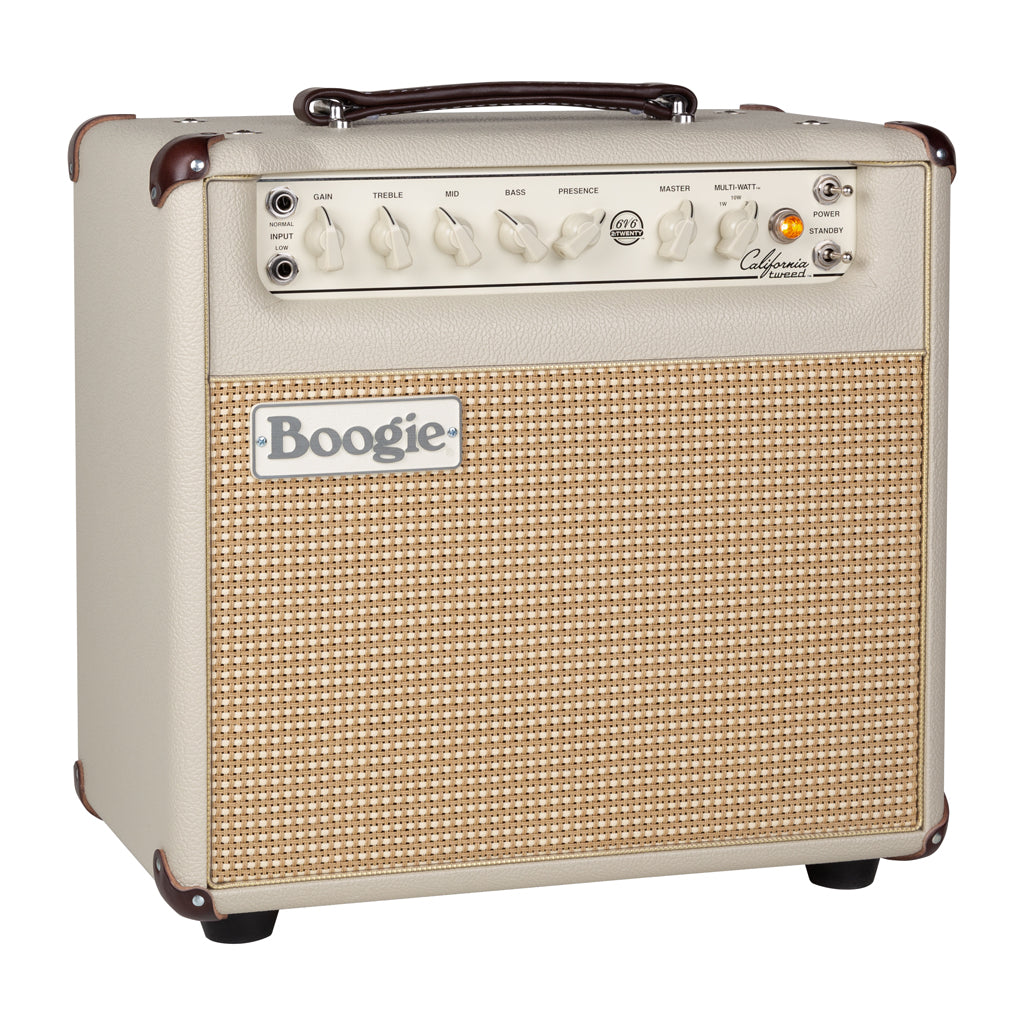 Mesa Boogie California Tweed 2:20 1x10 Compact Combo - Cream
1.TW210.CCM.J10
Regular price
$ 1,999.00
/
---
In stock, ready to ship

Inventory on the way
BEAUTIFULLY SIMPLISTIC, TWEED-BASED PERFORMANCE IN A NEW COMPACT PACKAGE
In the twilight of the 1960s, SF Bay Area amp repairman to the Stars, Randall Smith, was inspired to start building his own amplifiers after coming to a deep appreciation for the 50s Tweed circuits developed by Leo Fender. He loved their organic-sounding voice, powerful controls, and the way they smoothly transitioned from clean to clip and back again. Standing on the shoulders of a giant, Smith's (and the World's) first venture into boutique guitar amplification resulted in a new Boogie® amp design inspired by that wonderful, timeless-sounding preamp. Five decades later we returned to pay homage with the original California Tweed 4:40. Now, we've distilled the essence of that tweed-based performance and authentic 6V6 character in a new, more compact format. A beautifully simplistic design that raises the bar in the world of vintage tone. The NEW CALIFORNIA TWEED™ 2:20 HEAD.
A quick glance at the front panel of the California Tweed 2:20 reveals single-channel simplicity. Channel features include Normal & Low Inputs, Gain, Treble, Mid, Bass, Presence, Reverb, & Master Controls. Our legendary vintage all-tube, spring reverb with external reverb switching jack and a fully buffered, tube-driven series FX loop round out a feature set that delivers everything you need for golden tone, and absolutely nothing more.
3 POWER VOICES, ONE SIMPLE SWITCH
The California Tweed 2:20 is powered by 2x6V6 Power Tubes while the preamp features 5x12AX7 and 1x12AT7 preamp tubes. Our patented Incremental Multi-WattTM (Patent 9,917,560) Power Amp, featuring Duo-ClassTM (Patent 7,173,488) and Dyna-WattTM technologies, provides three power levels, two operating classes, and three wiring options via a single 3-Way Rotary Switch! Choose from the following power options:
20 Watts - 2x6V6 Class A/B Pentode – Fixed Bias

10 Watts - 2x6V6 Class A/B Triode – Fixed Bias

1 Watt - 1x6V6 Pentode, Single-Ended Class A – Cathode Bias
Fixed Bias (20 and 10-Watt Modes) and Cathode Bias (1-Watt Mode) both provide consistent, maintenance-free performance.
SINGLE CHANNEL SIMPLICITY
The California Tweed 2:20 features a single channel with Normal (clean to overdrive) and Low (clean) Inputs, Gain, Treble, Mid, Bass, Presence, Reverb, and Master Controls, giving you everything you need to dial up your ideal TONE quickly and easily. The Vintage All-Tube Spring Reverb is equipped with an external reverb switching jack (footswitch and cable sold separately) for remote activation.
THE PERFECT PARTNER FOR YOUR PEDALS
Whether you choose to run your pedals straight into the input or through the included fully buffered, tube-driven series FX loop, the California Tweed 2:20 delivers an ideal platform for pedal users in a compact 23-pound head that expands vintage tone and defines portability.
The California Tweed series is what we like to call "Vintage Expanded." When it comes to vintage, low-wattage tone and feel, no amp offers more than the new California Tweed 2:20! Harken back, bounce on forward, while never sacrificing one drop of golden California Tone.
Build: Handwired in Petaluma, CA with the World's Finest Materials
Wattage: Multi-Watt  
   1 Watt 
   10 Watts
   20 Watts

Preamp Tubes: 5x12AX7 & 1x 12AT7
Power Tube Type: 2x 6V6
Channels & Modes: 1 Channel 
Channel Control: Gain, Treble. Mid, Bass, Presence, Reverb and Master
Mode Voicings/Styles: Single Channel with two inputs: Normal Input = Clean to Overdrive, Low Input = Clean
Reverb: Yes (Tube Driven Spring)
FX Loop: Fully Buffered Series
Footswitch Functions: Reverb (Footswitch & Cable sold separately)
Weight: 36.6 Lbs. 
Dimensions: 18" H x 18 1/2" W x 10" D
Lark Guitars Difference: Lark Guitars takes great pride in making sure your shipment will arrive timely, correctly and as hassle free as possible. With the massive shift to more remote ordering of guitars and instruments, this process can be exasperating at times. It is our goal to minimize any of these feelings, making your transaction from purchase to playing as joyfully possible. For more info regarding our shipping methods, please visit here.
International Shipping:
We ship all over the world, please contact us with any questions you may have or to receive a detailed shipping quote! More info here.