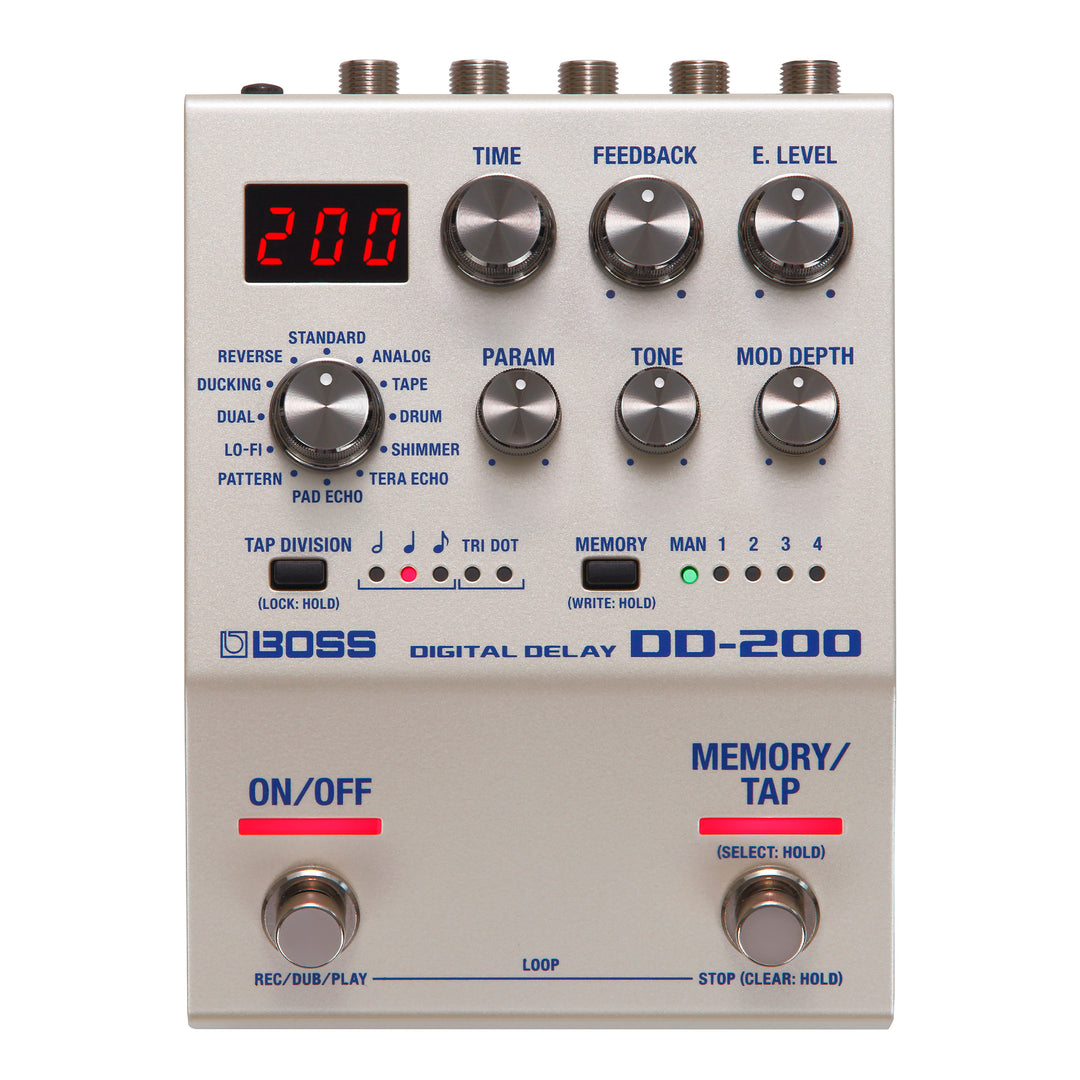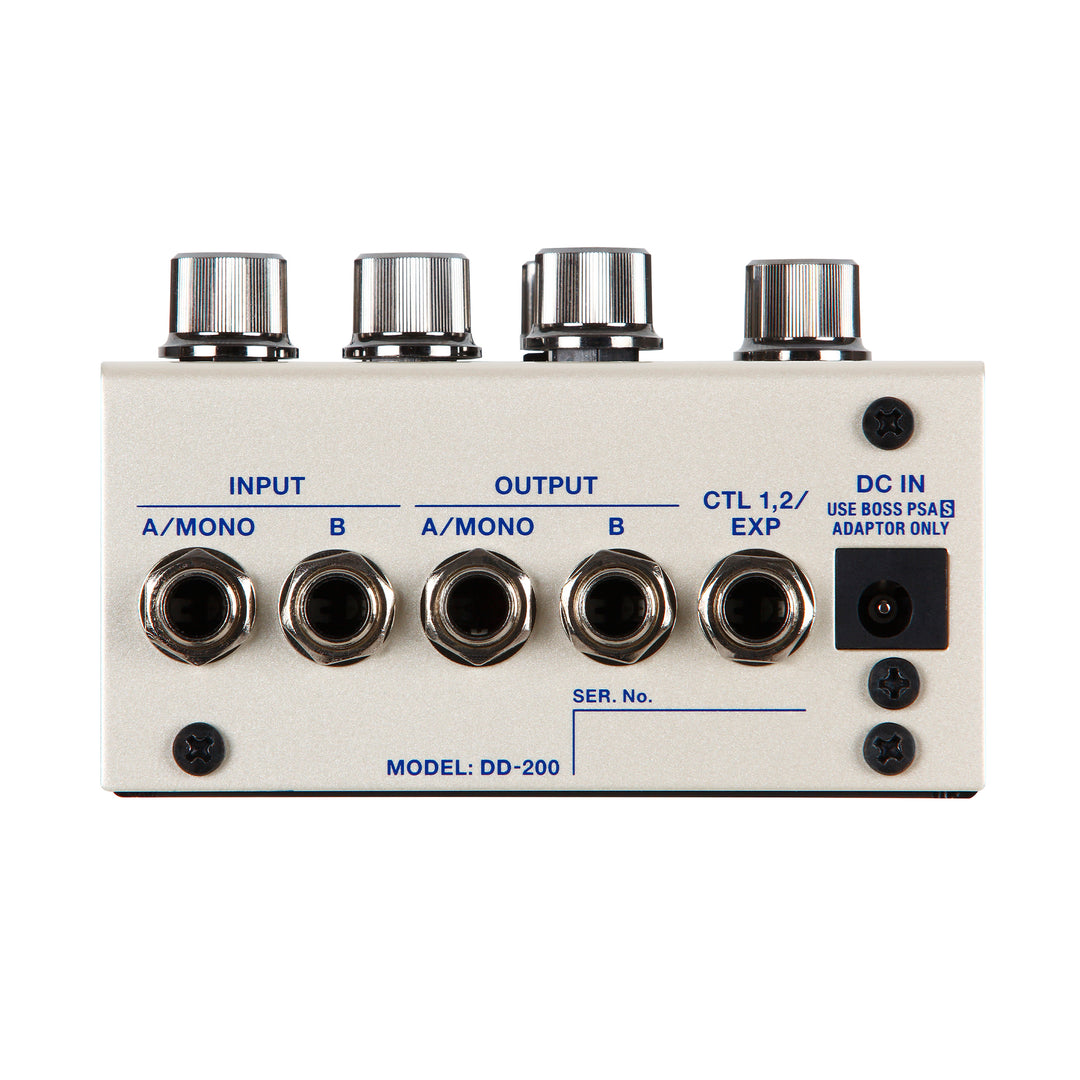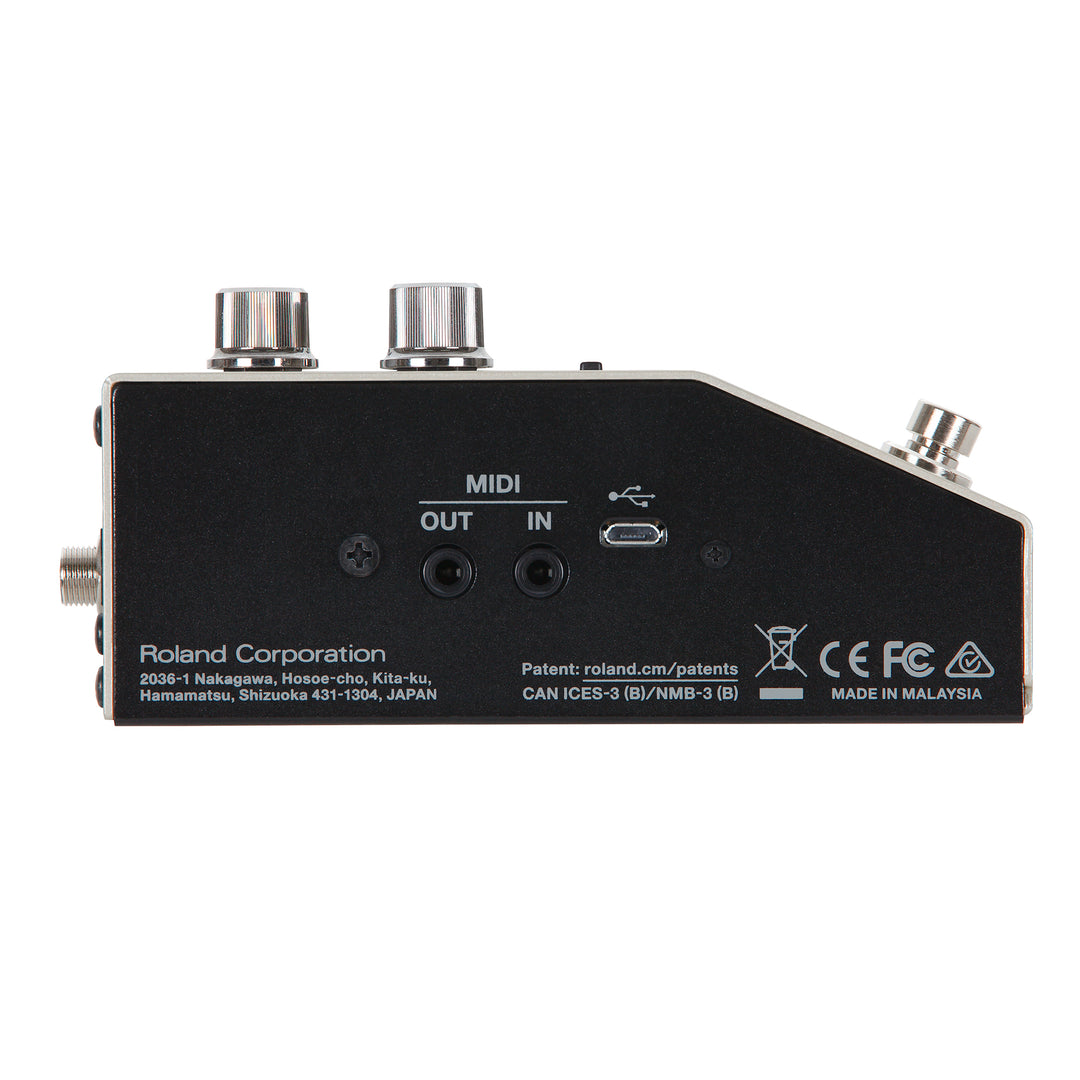 Boss DD-200 Digital Delay
DD-200
---
In stock, ready to ship

Inventory on the way
SIMPLY SOPHISTICATED
The DD-200 Digital Delay brings together sounds and features inherited from the flagship DD-500 into an even smaller footprint. Twelve different modes offer an inspiring variety of delay colors from modern digital to classic analog, letting you dial up everything from basic echoes to rich ambient pads and everything in-between. There's also a looper that's always ready to use, plus a selectable carryover function for seamless transitions between memories.
Class-leading sound quality with 32-bit AD/DA, 32-bit floating point processing, and 96 kHz sampling rate
Twelve versatile modes provide a wide range of delay types
Fast, easy operation with hands-on controls
Real-time panel setting and four memories for storing favorite sounds
Phrase looper with up to 60 seconds of recording time
Panel Lock function disables controls to prevent unwanted changes
Customizable multi-function footswitches for bypass, tap tempo, memory selection, looper control, and more
Support for expanded control via external footswitches, an expression pedal, or MIDI
Full MIDI I/O provided with mini TRS jacks (BMIDI-5-35 adaptor cable available separately)
Micro USB jack for firmware updates
Analog dry through and buffered bypass
Runs on PSA-series AC adaptor or three AA-size batteries
Twelve Modes, Unlimited Sounds

With 12 different modes to choose from, the DD-200 provides nearly any flavor of delay in an amazingly compact size. At your command are super-clean digital delays, gritty analog echoes, and spot-on retro sounds from the Roland RE-201 Space Echo and Binson Echorec 2. There's also a variety of options for creating reverse effects, lo-fi tones, and pulsing rhythmic sounds with layered delays. And with the Tera Echo, Shimmer, and Pad Echo modes, immersive ambient colors are just a knob twist away.

Dial in Sounds Fast

The DD-200 features a no-nonsense interface, making it easy to craft inspiring sounds in the heat of the moment. Essential delay parameters are provided on dedicated controls for direct, hands-on access. And in each mode, the function of the PARAM knob changes to parameters tailored for the selected type, delivering extended control with no need to menu dive.

Save and Recall Your Favorite Setups

The DD-200 offers four onboard memories for saving your favorite setups and recalling them while performing. There's also a Manual setting that reflects the current panel status, essentially giving you a fifth setup to choose from. You can scroll through memories with a DD-200 footswitch, and it's possible to limit the scrolling range or assign memories directly for even faster access. And by enabling the carryover function, the active delay repeats will keep sounding as you change memories for smooth, free-flowing transitions.

Deep Real-Time Control

By default, the DD-200's multi-function footswitches provide access to basic functions like bypass, memory scrolling, tap tempo, and looper control. But you can easily reassign them to hold, warp, and many other functions. External control is also possible via footswitches or an expression pedal, and MIDI I/O is even provided on space-saving mini TRS jacks. Via MIDI, you're able to chain multiple 200 series pedals and select memories on all of them at once, and also control a wide range of functions from MIDI devices like the ES-8 and ES-5 effects switchers.

Ready-to-Go Looper

Any time you're ready, pressing the DD-200's two footswitches together puts you into looper mode. Up to 60 seconds of mono recording time is available, and operation is simple and direct with the onboard switches. And since the looper engine functions independently, you're able to develop expressive loops with any of the DD-200's rich delay sounds.

DD-200 Delay Modes

• Standard—Clear digital delay. PARAM adjusts the delay attack.
• Analog—Emulates classic analog "BBD" delays like the BOSS DM series. PARAM controls character and distortion amount.
• Tape—Emulates the warm tape-based sound of the legendary Roland RE-201 Space Echo. PARAM selects different combinations of three playback heads, and also adjusts the amount of distortion in the delay sound.
• Drum—Models the drum-based Binson Echorec 2. PARAM selects different combinations of four playback heads, and also adjusts the amount of distortion in the delay sound.
• Shimmer—Pitch-shifted delay for lush, heavenly textures. PARAM adjusts the delay brightness.
• Tera Echo—Spacious, animated ambience effect derived from the BOSS TE-2 pedal. PARAM adjusts the sound character.
• Pad Echo—Newly developed delay sound for creating drifting ambient textures. PARAM adjusts the delay attack.
• Pattern—Rhythmic sounds with 16 delay lines layered together. PARAM selects different pattern variations.
• Lo-Fi—Delay sound with fat, distorted character. PARAM adjusts the distortion effect.
• Dual—Two different delay lines connected in series. PARAM adjusts the time of the second delay.
• Reverse—Backwards delay for cool psychedelic effects and other unique tones. PARAM adjusts the delay attack.
• Ducking—Delay with a built-in ducking effect. PARAM adjusts the input sensitivity.
 
Lark Guitars Difference: Lark Guitars takes great pride in making sure your shipment will arrive timely, correctly and as hassle free as possible. With the massive shift to more remote ordering of guitars and instruments, this process can be exasperating at times. It is our goal to minimize any of these feelings, making your transaction from purchase to playing as joyfully possible. For more info regarding our shipping methods, please visit here.
International Shipping:
We ship all over the world, please contact us with any questions you may have or to receive a detailed shipping quote! More info here.