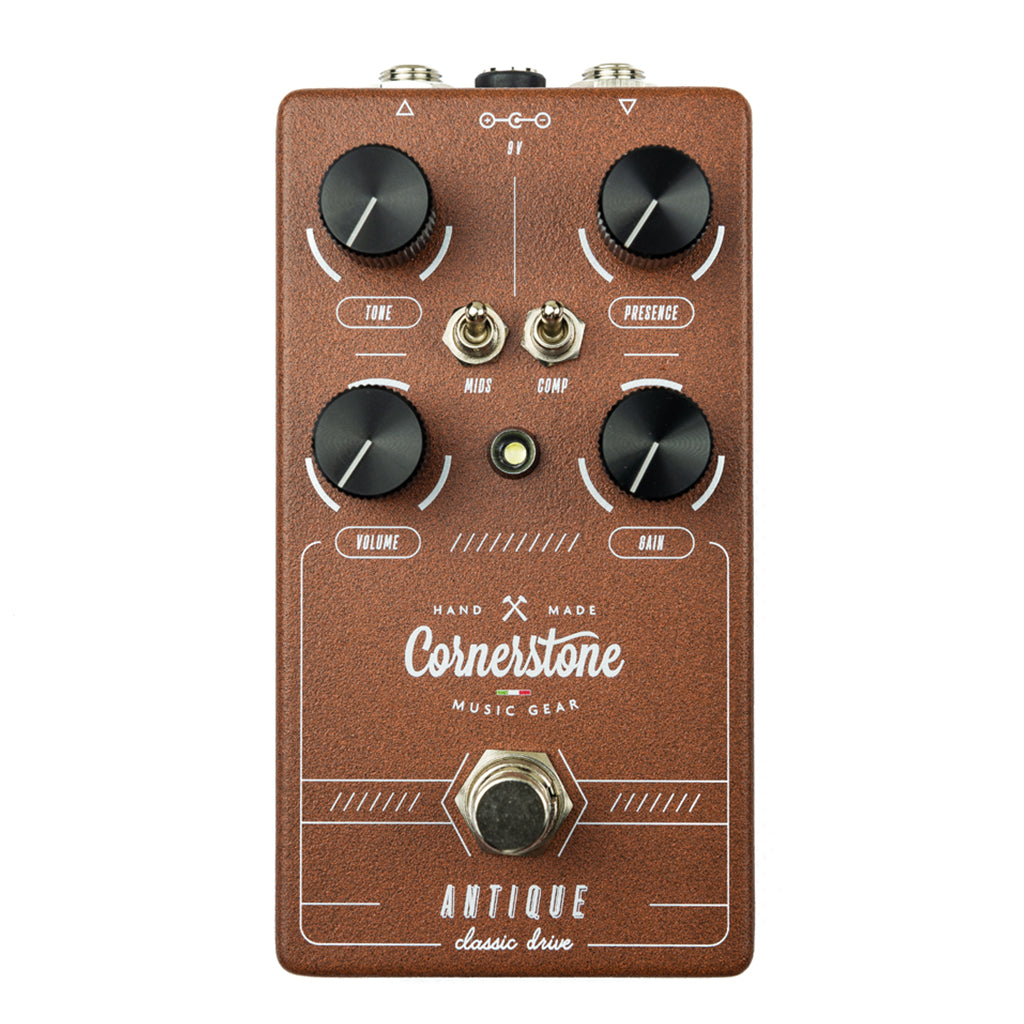 Cornerstone Antique - Classic Drive
Antique
---
In stock, ready to ship

Inventory on the way
Tube Screamer has made the history of guitar sound. But. Have you ever wished to have more control on the tone and other fundamental parameters, to nail your beloved artist's tone? Now you have it. The Antique. A screamer at its core, with all the versatility you've always wanted. Not just a pedal. It's a renewed inspiration on a classic sound.

You can ask all guitar players in the world: everybody knows or at least have heard a classic tube screamer pedal. And maybe you own one as well.
Tube Screamer has been widely used in hundreds of records and by hundreds of artists.
Despite its great sound, it does offer very little control over its sound, it gives no control over the dynamic response and its sound quality it's very much depending on how the amp is set.
But still we love the TS sound and particularly we love John Mayer's sound with it, especially in his album John Mayer Trio, so we did the tone research for you, to make an improved TS based pedal that could offer a wide variety of controls on tone and dynamics still being very easy to use.
So we introduce the ANTIQUE – classic drive.
A screamer at its core but with all the necessary versatility needed in particular on the mids frequencies to reach that awesome John's screamer sound:
TONE and PRESENCE knobs manage the low and upper mid frequencies respectively.
MIDS switch in down position cuts the mids at 1Khz, while in up position let the whole mids content to pass.
COMP switch (already seen in our Gladio) manages the overall compression of the pedal.
You can choose the desired level of compression to meet your taste and playing.
So how does it sound? Take a minute to check out the demos below and judge with your ears.
Suggested settings for Who did you think I was
Suggested settings for Good love is on the way
You don't have to look any further to reach this tone.
Rediscover the classic creamy screamer sound, start playing the Antique and let you be inspired again!
Lark Guitars Difference: Lark Guitars takes great pride in making sure your shipment will arrive timely, correctly and as hassle free as possible. With the massive shift to more remote ordering of guitars and instruments, this process can be exasperating at times. It is our goal to minimize any of these feelings, making your transaction from purchase to playing as joyfully possible. For more info regarding our shipping methods, please visit here.
International Shipping:
We ship all over the world, please contact us with any questions you may have or to receive a detailed shipping quote! More info here.