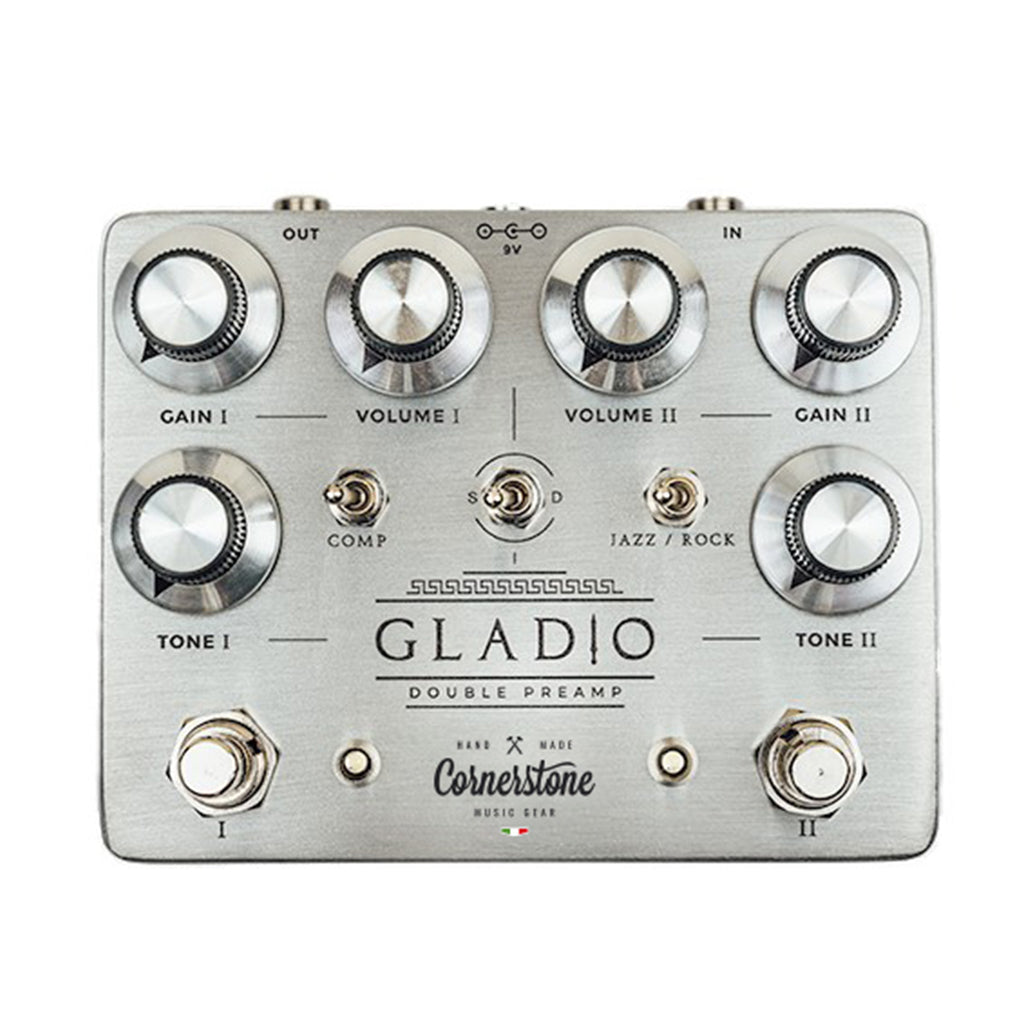 Cornerstone Gladio V2.1
GladioV2.1
---
In stock, ready to ship

Inventory on the way
The Gladio is specifically designed to help worldwide Robben Ford fans to reach his fabulous Dumble tone. You will not only get a similar tone but you'll find renewed inspiration and ideas thanks to Gladio's exceptional touch sensitivity and amp-like feel.
Who doesn't love the sound of artists like Robben Ford, Eric Johnson, Sonny Landreth, Scott Enderson or Steve Ray Vaughan?
Every guitar player that starts playing blues guitar must know these artists very well.
Their sound made history and despite being very different from each other, their sound has one thing in common.
They all used a Dumble amp.
So why not try to put some of those artists' sounds into a pedal?
Why not try to capture some of the feel of those sounds and put it into a pedal that could help players stop searching gear and finally be inspired?
WHAT IS THE GLADIO?
GLADIO is an overdrive with a realistic tube-compression behavior, still always retaining a rich touch-sensitive response, with two independent channels with totally different voices for a lot of versatility.
WHAT ABOUT CHANNEL 1?
Smooth, edgy and transparent inspired by Robben Ford's Cannonball Shuffle, with a comp switch to allow more versatility over the dynamic range
Here's how you can use it:
WHAT ABOUT CHANNEL 2?
Hard clipped, creamy and Fat inspired by Sonny Landreth's Elemental Journey. with a switch called JAZZ/ROCK to choose from mellow or brighter sounds
Here's how you can use it: 

WANT MORE VERSATILITY?
The Gladio is also equipped with a toggle switch to choose between two different switching modes.
"S" which stands for "SINGLE" and "D" which stands for "DOUBLE".
In Single mode you can use only one channel at a time. Very useful to switch between one sound or another in a live situation.
In Double mode you can stack the two channels to reach a huge FAT sound
Lark Guitars Difference: Lark Guitars takes great pride in making sure your shipment will arrive timely, correctly and as hassle free as possible. With the massive shift to more remote ordering of guitars and instruments, this process can be exasperating at times. It is our goal to minimize any of these feelings, making your transaction from purchase to playing as joyfully possible. For more info regarding our shipping methods, please visit here.
International Shipping:
We ship all over the world, please contact us with any questions you may have or to receive a detailed shipping quote! More info here.