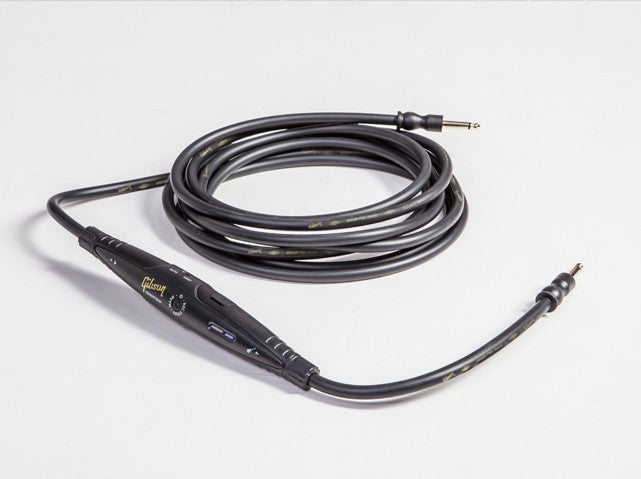 Gibson Memory Cable
GCR05
---
In stock, ready to ship

Inventory on the way

A SMART CABLE
POWERED BY TASCAM
NEVER LOSE A CREATIVE MOMENT AGAIN
with the inspiration insurance that only Memory Cable™ can provide.
You're playing guitar, and come up with an amazing song idea. Then it's gone. And you can't get it back. But Memory Cable™—a premium-quality instrument cable for guitar or keyboards—can capture your inspiration so you'll never lose a brilliant creative moment again.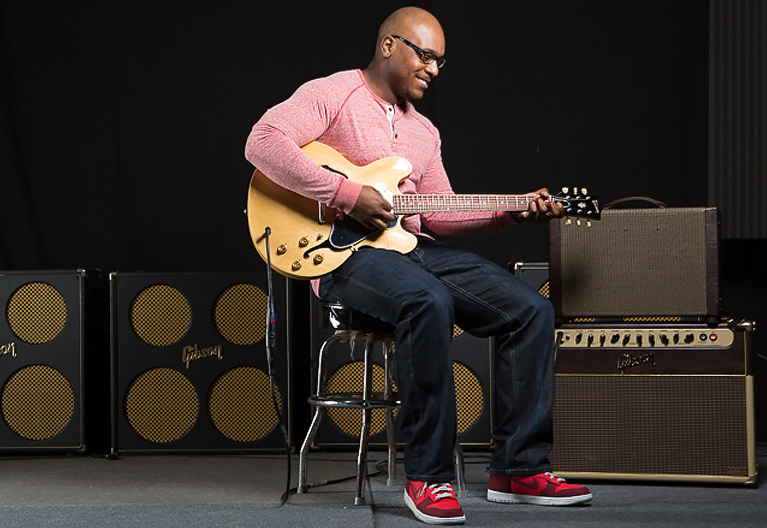 A STUDIO QUALITY RECORDER / PREAMP
FOR THE PRICE OF AN OUTSTANDING CABLE
The cable's built-in, super-compact recorder (designed by TASCAM, the undisputed leader in portable recording) saves up to 13 hours of your playing to commonly available, inexpensive Micro SD cards. And with CD-quality 44.1kHz/16-bit resolution, the audio quality is ideal for transferring over to computer-based, multitrack recording programs.
MEMORY CABLE

™

APPLICATIONS
THE WHEN, AND WHERE OF USING THE MEMORY CABLE

SONGWRITING
Memory Cable™ doesn't have to be plugged into an amp—just plug into a guitar, bass, or keyboard, and start recording.

IT'S A CABLE
Memory Cable uses premium cable for pristine sound, and doesn't even need power to work as a conventional cable.

RECORD REHEARSALS
Plug into the output of your PA mixer to record your rehearsals.

COMPUTER RECORDING "INSURANCE."
Patch your guitar to a computer's audio interface through the Memory Cable™—if you forget to record-enable a track, think an earlier take was better, or the computer crashes, your performance will still be safely tucked away in the Memory Cable™.

PRACTICING
Record your playing for later analysis.

EASY "RE-AMPING."
Compared to standard re-amping solutions that often involve multiple cables, boxes, and signal splitting, the Memory Cable approach is simple and effective.
SPECIFICATIONS
IT'S ALL IN THE DETAILS

Stores over 13 hours of audio with 4GB MicroSD card (included)

Continuous or auto recording (records only when you're playing)

Handles guitar, bass, drum machine, synthesizer, etc. and line-level signals

Uncompressed recording—CD-quality 44.1kHz/16 bit fidelity

Mac/Windows/iOS/Android compatible WAV file format

Ultra-simple user interface, with included reference card

Insulated ends minimize the chance of shocks

Transfer files directly from MicroSD card to computer using a card reader, or even insert the MicroSD in a compatible smart phone and access the phone via USB

Recording technology from TASCAM, the undisputed leader in hand-held portable recorders

Uses AA main battery (standard or rechargeable, approximate 8 hour battery life) and LR44 battery for Real Time Clock functions (approximate 1 year battery life)

Premium quality, low-capacitance cable
FREQUENTLY ASKED QUESTIONS
WE HAVE THE ANSWERS

Does the cable still work if the battery loses power?

Yes. The cable works regardless of battery strength or whether the recorder is enabled.

I'm concerned the cable will affect my guitar sound.

Don't be. The cable is premium quality. If anything it will probably sound better than what you're using.

What advantage is there over a regular hand-held recorder?

The biggest advantage is that you have to use a cable anyway, so the recorder is always at your fingertips.

Does the Memory Cable™ work with acoustic guitars?

Yes, if the guitar has a ¼" output jack.

Will you make a model for electronic instruments, like keyboard synthesizers?

The Memory Cable™ is already compatible with almost any instrument or sound source that has a ¼" output jack.

If I record a really great lick, how do I find it?

You can insert a tag after the end of something really cool. This closes that file, and starts a new one. This way you know to always go to the end of a file to find the good stuff.

What happens if the MicroSD card becomes full?

The Memory Cable™ starts deleting the oldest files to make room for more inspiration insurance.

What's the RTC battery for?

It allows time/date-stamping your files. The cable can still record without this battery.

I have long silent spaces when I record; this wastes a lot of memory.

Select Auto mode instead of Cont(inuous), and the Memory Cable™ will record only when you're playing.

How can I play back sounds or transfer them to a computer?

The MicroSD card is compatible with MicroSD card readers (typical cost is $2 - $5), which connect to Windows or Mac computers via USB. Some computers have slots for standard-sized SD cards and the package includes a MicroSD-to-SD adapter. You can then copy files from the card to the computer, and play them back through your computer's sound card. Some smartphones store data on MicroSD cards. You can temporarily insert the Memory Cable's™ MicroSD card and use the smartphone as a USB driver; consult your phone's documentation for details on how to do this.
Lark Guitars Difference: Lark Guitars takes great pride in making sure your shipment will arrive timely, correctly and as hassle free as possible. With the massive shift to more remote ordering of guitars and instruments, this process can be exasperating at times. It is our goal to minimize any of these feelings, making your transaction from purchase to playing as joyfully possible. For more info regarding our shipping methods, please visit here.
International Shipping:
We ship all over the world, please contact us with any questions you may have or to receive a detailed shipping quote! More info here.