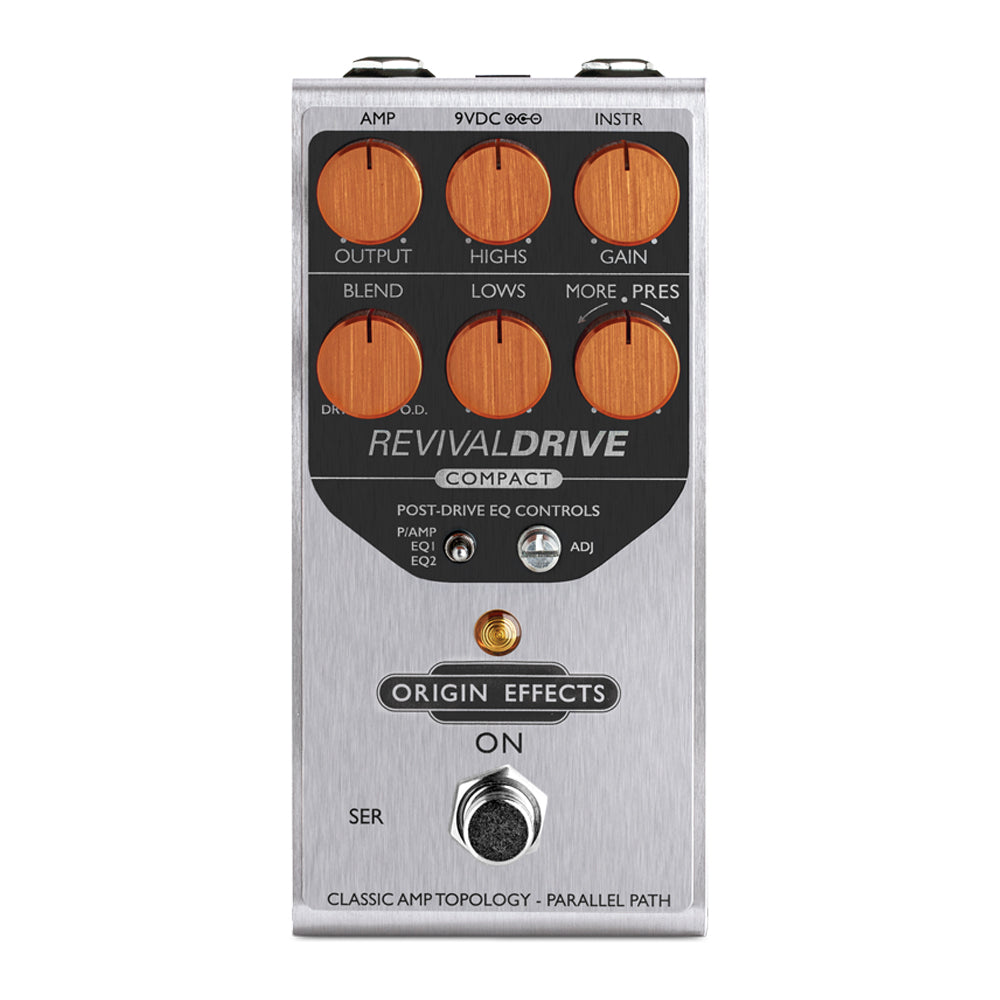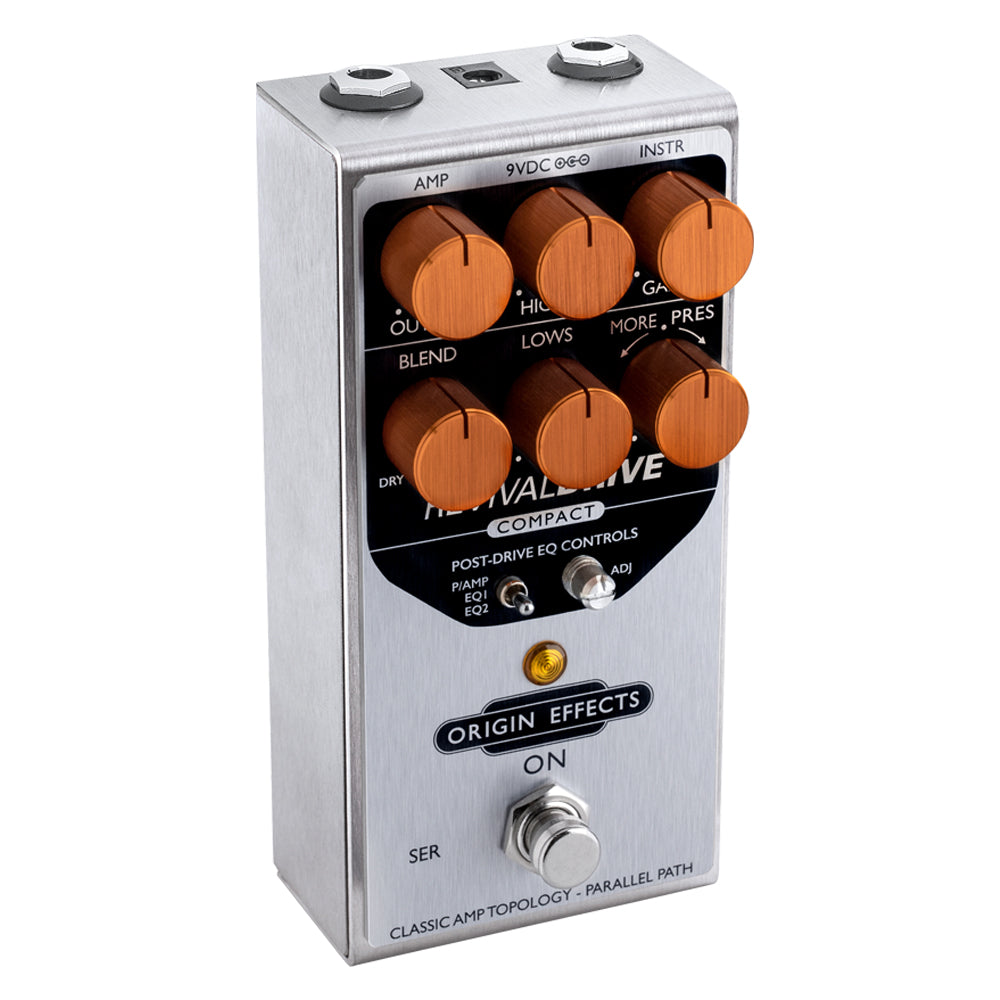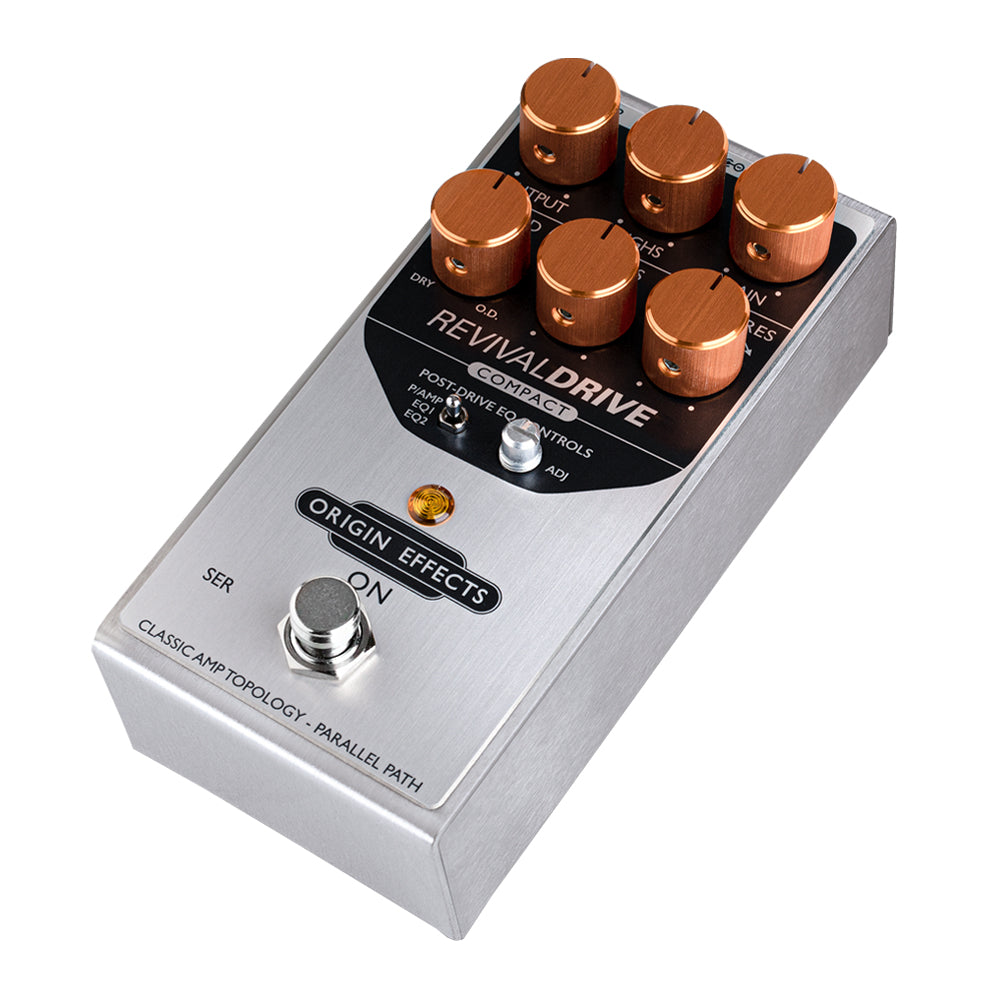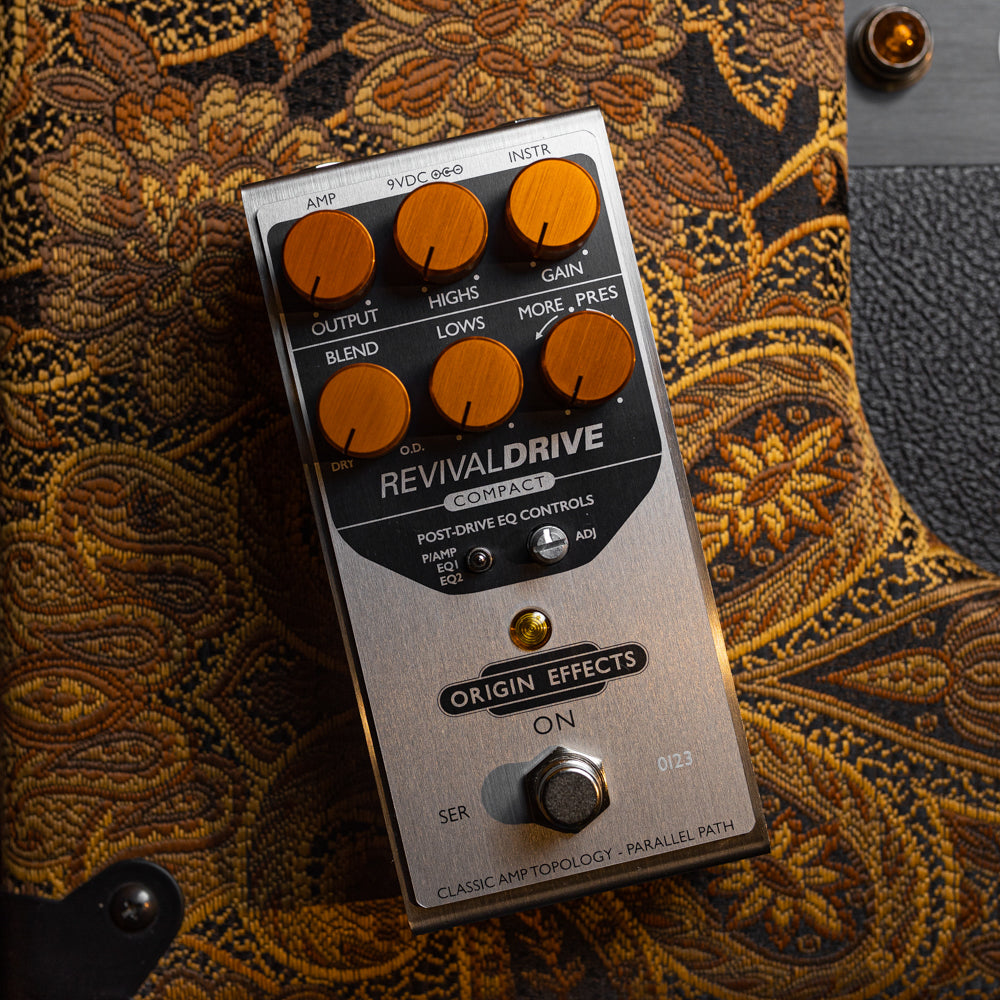 Origin Effects Revival Drive Compact - Real Amp Overdrive
RD-C
---
In stock, ready to ship

Inventory on the way
About the RevivalDRIVE Compact:
The RevivalDRIVE Compact is a versatile overdrive that captures the authentic tone, feel and response of a range of classic non-master volume valve amps.
Inside, it houses an unabridged valve amp signal path recreated in analogue electronics, including the preamp, phase inverter, push-pull power amp and rectifier stages plus a speaker-emulating reactive load. 
By altering the way these stages behave and interact, the RevivalDRIVE Compact's user-friendly controls provide instant access to a wealth of British and American amp voicings, from clean to fully cranked, while powerful EQ compensation controls will make sure it sounds great with a wide variety of amps.
Controls:
• Gain: sets the amount of overdrive;
• Output: sets the overall output level;
• Blend: adjusts mix from 100% overdrive to 100% dry (clean boost), simultaneously adjusting gain to maintain a musical blend of clean and overdriven signals;
• Lows: controls the overdrive's low-frequency characteristics, from fat and fuzzy Tweed-style distortion to tight and defined British drive;
• Highs: provides continuous adjustment through a range of classic Fender- and Marshall-style preamp voicings, progressively increasing mids and highs;
• More/Pres (clockwise): above 12 o'clock, functions like the classic Marshall Presence knob, releasing high frequencies from the effects of negative feedback;
• More/Pres (counter-clockwise): below 12 o'clock, progressively reduces negative feedback around the power amp, increasing gain and altering the pedal's transition from clean to overdriven in response to playing dynamics;
• Post-Drive EQ: three preset EQ curves (flat power amp, Fender Blackface, Marshall) and a continuously adjustable filter adapt the pedal's output to suit your clean amp settings.
Additional features:
• Ultra-high input impedance
• Silent switching
• High-quality "signal-conditioning" bypass mode
• High-current, low-noise electronics
• Premium components throughout
• Advanced power supply filtering and protection
• Runs off standard 9VDC adaptor 
• Designed and built in England
Lark Guitars Difference: Lark Guitars takes great pride in making sure your shipment will arrive timely, correctly and as hassle free as possible. With the massive shift to more remote ordering of guitars and instruments, this process can be exasperating at times. It is our goal to minimize any of these feelings, making your transaction from purchase to playing as joyfully possible. For more info regarding our shipping methods, please visit here.
International Shipping:
We ship all over the world, please contact us with any questions you may have or to receive a detailed shipping quote! More info here.