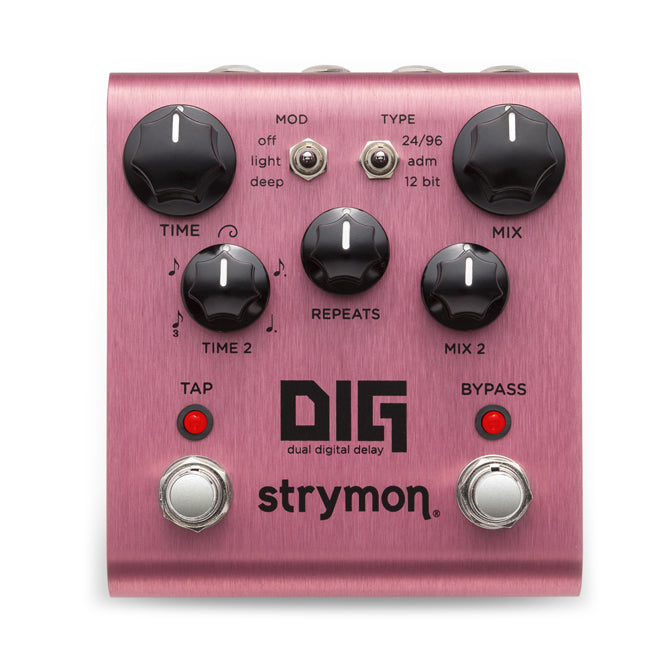 Strymon DIG Dual Digital Delay
S-DIG
---
In stock, ready to ship

Inventory on the way
DIG unearths the true soul of digital delay and doubles it—two simultaneous, integrated delays with the captivating rack delay voicings from the 1980s and today, for incredible expressive potential.
Effortlessly create your own world of intricate and synchronized echoes, along with hypnotic and atmospheric repeats that blur the line between delay and reverb. Stretch your sonic horizons with five musically satisfying rhythmic subdivisions and three dual delay routing options. Go from syncopated, pulsating delay patterns, to evocative, spaced-out echo trails all in a compact, pedalboard-friendly format.
Rack-mount digital delays of the '80s ushered in a new era of audio effects. The innovative electronic designs generated the cleanest delays yet to be heard, but also created their own special and intriguing sonic characteristics. Thirty-plus years later, these sounds remain as distinctive and inspiring as ever.
Our thorough investigation of digital delay technology reveals the unique personalities that these delays possess. Delve into DIG's three digital delay voicings: the early '80s adaptive delta modulation mode, the mid-'80s 12 bit pulse code modulation mode, and the modern high-resolution 24/96 mode.
Multiply these distinct voicings by two and get DIG—your perfect dual delay ally.
Two Simultaneous, Integrated Delays.
DELAY 1 – The Master Delay.
Free-running delay time allows you to easily dial in delays from 20ms to 1.6s with the Time knob or Tap Tempo switch.
Longer delay times lend themselves to more ambient soundscapes while doubling and slapback effects can be achieved at short delay times.
DELAY 2 – The Companion Delay.
Set the ratio between the two delays with one of five rhythmic subdivisions: triplet, eighth note, dotted eighth note, dotted quarter note, and the golden ratio.
Don't want synchronization? Engage Free Mode to disable subdivisions and allow Delay 2 to be its own independent, free-running delay. Dial in short delay times for chorus/flange sounds to run alongside Delay 1.
SOUND DESIGN

Two simultaneous, integrated delays, with unique digital rack delay voicings
Five dual delay adjustment and tone shaping knobs:

 

Time, Time 2, Mix, Mix 2, Repeats
One modern and two classic digital delay voicings:

 

24/96, adm, 12 bit
Five rhythmic subdivisions:

 

Triplet, Eighth, Golden Ratio, Dotted Eighth, Dotted Quarter
Three choices for delay line modulation:

 

Off, Light, Deep
Five "hidden" knobs for deep dual delay control:

 

Delay 1 Subdivision, Sync/Free Mode, Filter, Config, Delay 2 Repeats
Selectable

 

Free Mode

 

disables subdivisions and synchronization
Press and hold

 

Circular Repeats

 

effect
20ms – 1.6s delay range (40ms – 3.2s with Half Note Delay 1 Subdivision)
Ins, Outs, Switches
High impedance mono input, with selectable

 

TRS stereo input
Stereo output
Three signal routing configurations:

 

Series, Parallel, Ping Pong
Tap tempo

 

and Bypass footswitches
Expression pedal input

 

allows the connection of either an expression pedal (for selectable control over any knob parameter),

 

external tap

 

pedal (for remote control of tempo), or

 

Favorite switch

 

(to save a Favorite preset)
Lark Guitars Difference: Lark Guitars takes great pride in making sure your shipment will arrive timely, correctly and as hassle free as possible. With the massive shift to more remote ordering of guitars and instruments, this process can be exasperating at times. It is our goal to minimize any of these feelings, making your transaction from purchase to playing as joyfully possible. For more info regarding our shipping methods, please visit here.
International Shipping:
We ship all over the world, please contact us with any questions you may have or to receive a detailed shipping quote! More info here.