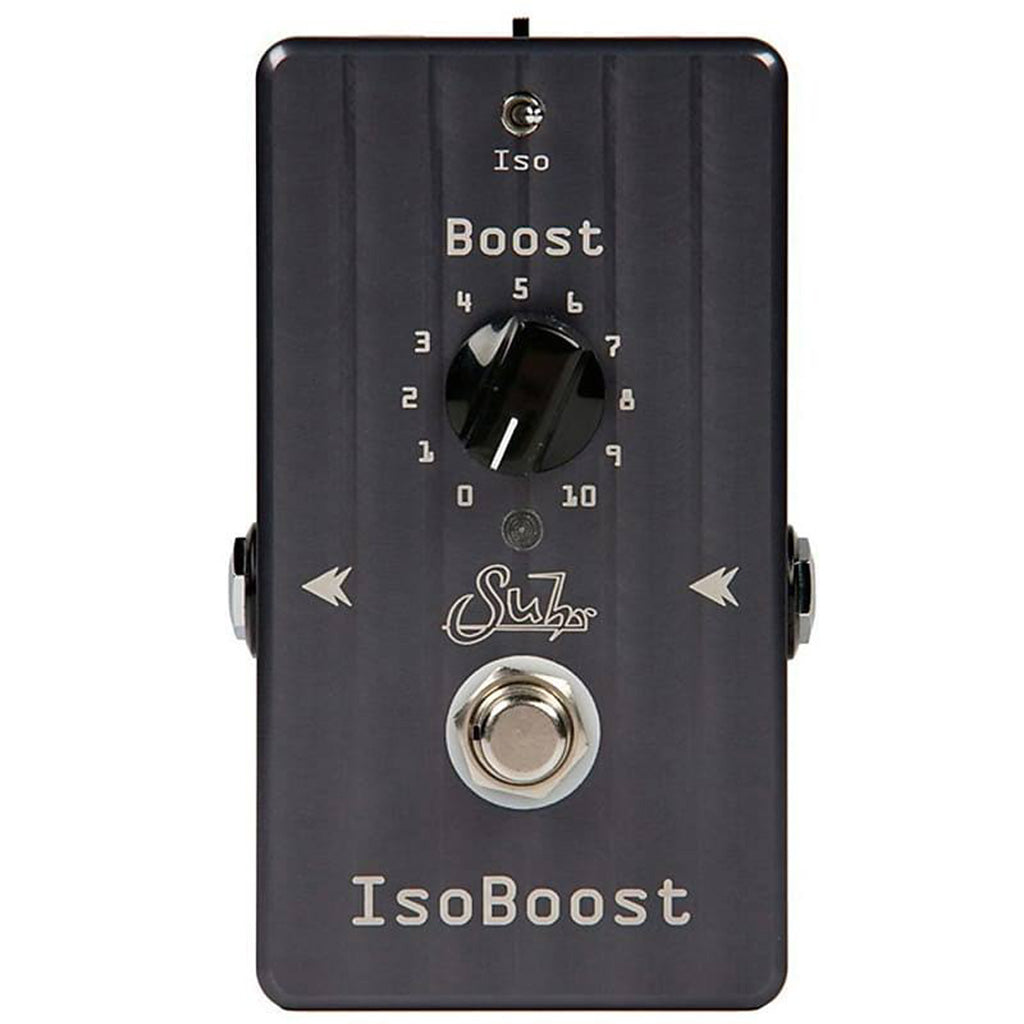 Suhr Iso Boost
03-BST-0002
---
In stock, ready to ship

Inventory on the way
ISO Boost™ incorporates a clean transparent boost, as well as a transformer isolated buffered signal to drive long effects chains. The Iso Boost is the ultimate boost pedal and line driver that expands the range of your tube amplifier.
​
Iso Boost features an easy to tweak layout which include a Boost control and a two position Iso (Isolation) switch.
CONTROLS
Boost: Adjusts the amount of boost from the circuit, from Unity (0dB) to +20dB of gain.
ISO (Isolation) Switch (two position): Activates a transformer to isolate the output and eliminate ground loops between amplifiers and effects.
Left: Isolated transformer, buffered output
Right: Non-isolated, buffered output
Note: Iso Boost is always buffered.
SPECIFICATIONS:
Input Impedance: 1M ohm
Output Impedance: 600 ohm / 10k Ohm
Power Connector: 9Vdc, center negative, 2.1mm x 5.5mm
Operating Voltage: 4V to 18V (nominal 9V)
Maximum Voltage: 20Vdc
Reverse Battery Protection: yes
Over Voltage Protection: yes
Current Consumption: 8mA
Estimated Battery Life: 75 – 100 hours of continuous use
Dimensions: 2.50" Width x 4.50" Depth x 1.25" Height
Weight: one pound
FxLink Connector: 1/8"
FxLink max Voltage: 3.3Vdc
Shield → Tip: Activate on/off
ROHS Compliant: Yes
Agency Approvals: N/A
Lark Guitars Difference: Lark Guitars takes great pride in making sure your shipment will arrive timely, correctly and as hassle free as possible. With the massive shift to more remote ordering of guitars and instruments, this process can be exasperating at times. It is our goal to minimize any of these feelings, making your transaction from purchase to playing as joyfully possible. For more info regarding our shipping methods, please visit here.
International Shipping:
We ship all over the world, please contact us with any questions you may have or to receive a detailed shipping quote! More info here.