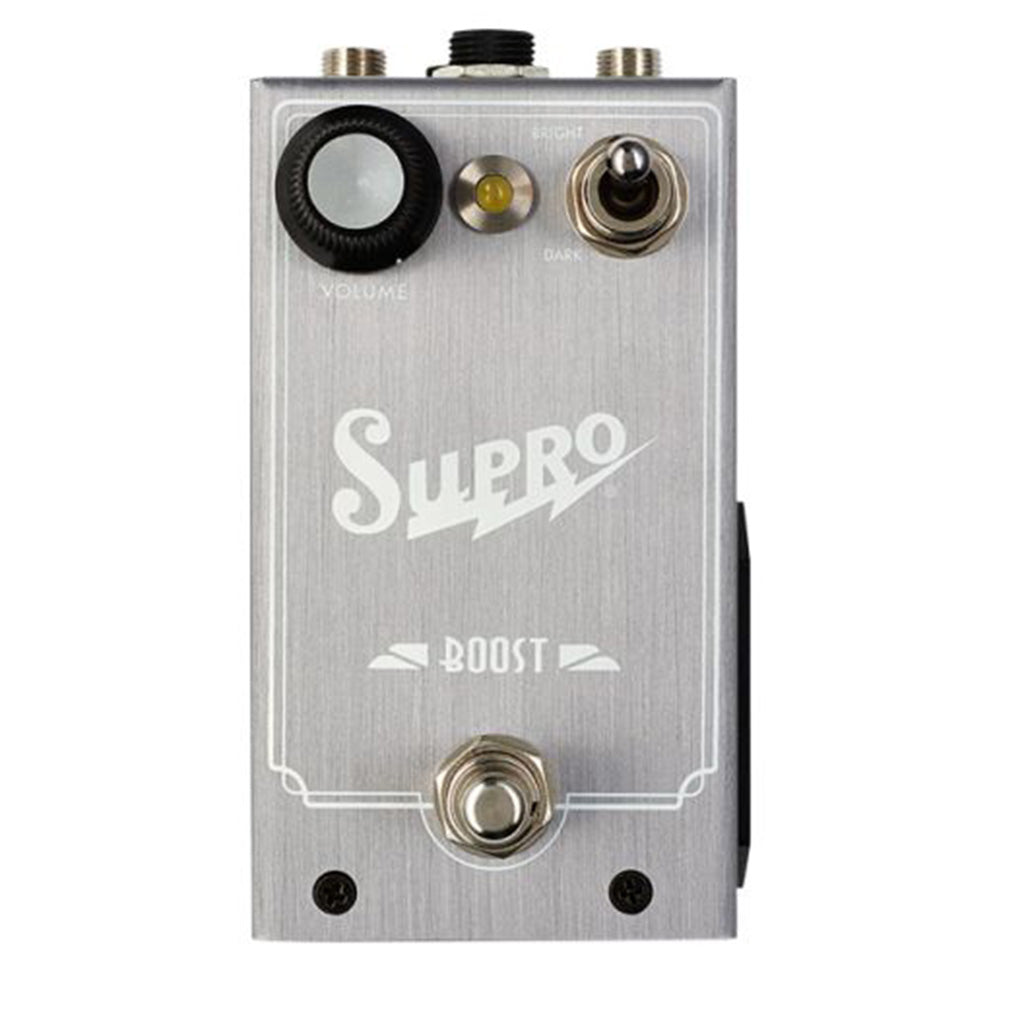 Supro 1303 Boost
S-1303-U
---
In stock, ready to ship

Inventory on the way
Supro Boost is a "clean" pre-amp ideally suited to pushing the front end of a tube amp. This J-FET based pedal design delivers up to 20db noiseless gain boost plus optional High Pass or Low Pass filtering to contour your sound. Simple, straight-forward and effective, the Supro Boost pedal remains clean and sweet at all settings, no matter how hard you push it with other pedals earlier in the chain. The Supro boost also remains frequency linear as the gain is adjusted, allowing the musician to set the desired level of boost without sacrificing overall tone or requiring them to adjust their amp's EQ settings to compensate.
The Supro Boost pedal sports a simple control layout with a single Volume knob and an oversized toggle switch to select BRIGHT, FLAT or DARK overall frequency response. The BRIGHT mode enables a 3db/octave HP (high pass) filter. This setting is useful for thinning out humbucker guitars when adding boost to increase sparkle and prevent mud. The DARK mode enables a 3db/octave LP (low pass) filter. This setting is useful for fattening up single coil guitars when adding boost, to increase warmth and prevent harshness.
Taking the boost pedal one step further, the Supro Boost offers a TRS port for expression pedal control of the VOLUME knob. This effectively turns the Supro Boost pedal into a high-fidelity, active volume pedal with user-adjustable minimum and maximum settings. With the expression pedal in use, the on-board VOLUME knob sets the maximum value while a user-adjustable, internal trimmer sets the minimum volume. All Supro pedals are assembled in Port Jefferson, NY, USA, featuring custom-tooled, anodized, brushed-aluminum enclosures, 9V battery or AC powered operation, rear-mounted metal jacks, easy-access side-mounted battery drawer and studio-friendly, noiseless (click-free) true-bypass switching.
Supro Boost Features:
Frequency linear boost up to 20db
6db per octave High Pass Filter option
6db per octave Low Pass Filter option
Expression pedal control for VOLUME
Accepts standard 2.1mm neg. tip power supply
Runs on 9V battery (included)
Pedal size: 12cm x 6.5cm x 6.5cm
Current Draw below 20mA
Original circuit design by Thomas Elliott
Lark Guitars Difference: Lark Guitars takes great pride in making sure your shipment will arrive timely, correctly and as hassle free as possible. With the massive shift to more remote ordering of guitars and instruments, this process can be exasperating at times. It is our goal to minimize any of these feelings, making your transaction from purchase to playing as joyfully possible. For more info regarding our shipping methods, please visit here.
International Shipping:
We ship all over the world, please contact us with any questions you may have or to receive a detailed shipping quote! More info here.