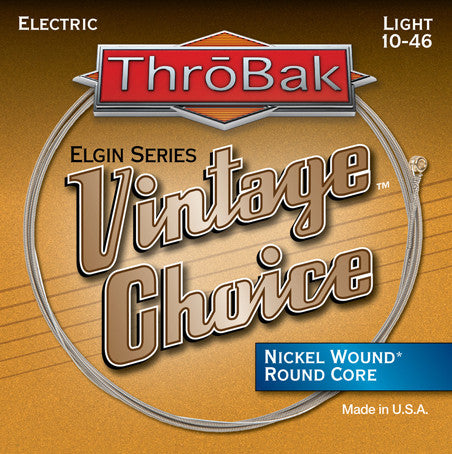 ThroBak Vintage Choice Nickel Wound Round Core X-Light Electric Strings 9-42
TE-VC-NWRC-XL
Regular price
$ 8.25
Sale price
$ 5.69
/
---
In stock, ready to ship

Inventory on the way

Introducing ThroBak Vintage Choice™ Elgin Series™ Electric and Acoustic guitar strings. ThroBak Vintage Choice™ guitar strings are custom made just 20 minutes down the road from ThroBak by a small two man machine shop with a 45 plus year history of making only the finest precision string winding machines and custom musical instrument strings for select customers. When we discovered that this "off the radar" machine shop designed the original late 60's string machines for the now closed historic Elgin IL plant, we knew they were just the people with the know-how to produce the best possible traditional round and hex core Electric and Acoustic guitar strings that we were looking for. Enjoy the longevity and tuning stability that only comes from a premium guitar strings. Always choose ThrōBak Vintage Choice™ guitar strings.
Our best Pure Nickel strings with a round core.
The classic round wound pure Nickel tone you know from early Rock and Electric Blues. When we say pure Nickel strings we mean it. Although the pure Nickel wire raises our cost by more than 60% over Nickel plated steel, pure Nickel is the only way to produce the tone, feel and response of classic pure Nickel strings. Pure Nickel strings emphasize the fundamental of the picked note. Combined with a classic round core, pure Nickel electric guitar strings have a round, clear tone with a warm edge. Made in U.S.A. using only the finest U.S.A. wire.
What makes the best electric guitar strings?
At ThroBak it's dedication to quality and craft. Vintage Choice electric guitar strings are custom made for ThroBak by a two man machine shop down the road from us with nearly half a century of experience making electric guitar strings. ThroBak pure Nickel strings and Nickel wound strings are crafted with a level of generational expertise that is now rare in a world so focused on cost over quality. Are these the best Electric Guitar Strings out there - well we think so - but try some for yourself and you be the judge! 100% USA made with only the finest USA made wire. 
Lark Guitars Difference: Lark Guitars takes great pride in making sure your shipment will arrive timely, correctly and as hassle free as possible. With the massive shift to more remote ordering of guitars and instruments, this process can be exasperating at times. It is our goal to minimize any of these feelings, making your transaction from purchase to playing as joyfully possible. For more info regarding our shipping methods, please visit here.
International Shipping:
We ship all over the world, please contact us with any questions you may have or to receive a detailed shipping quote! More info here.