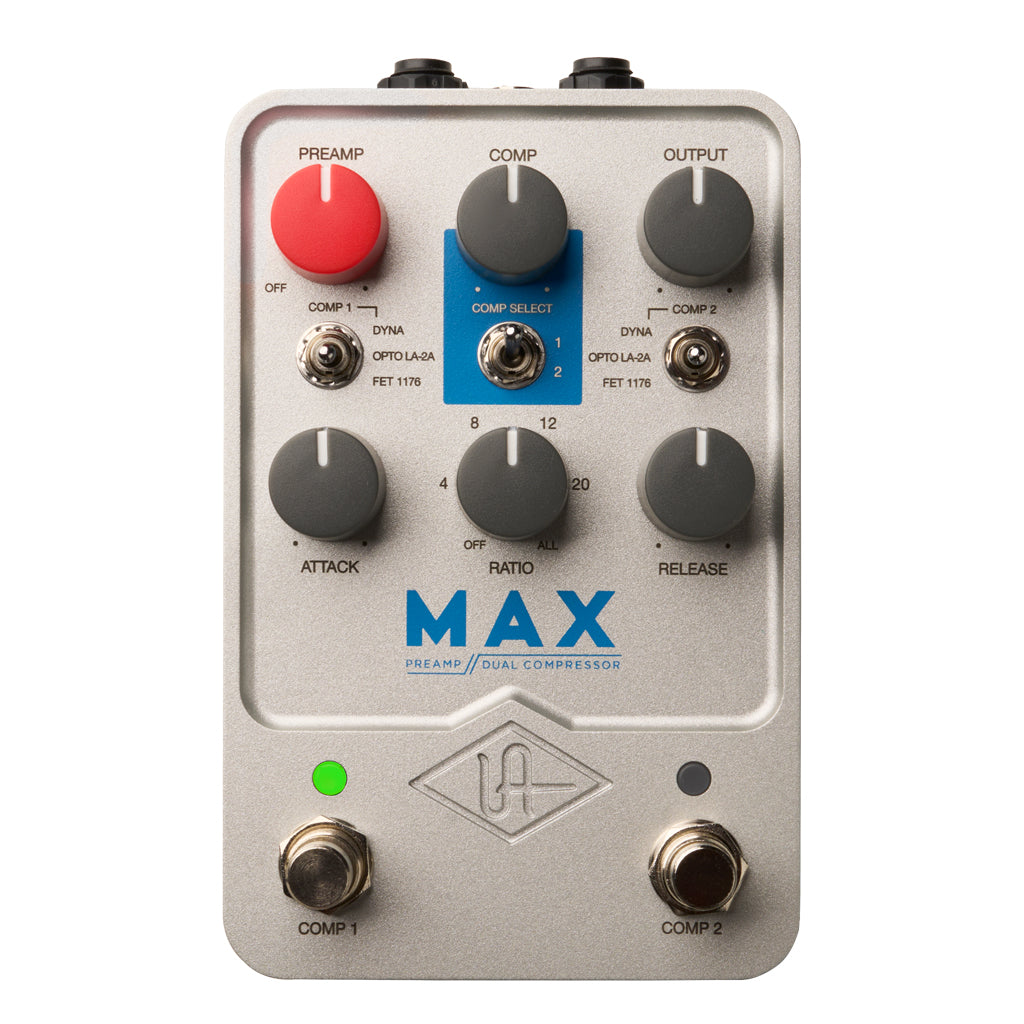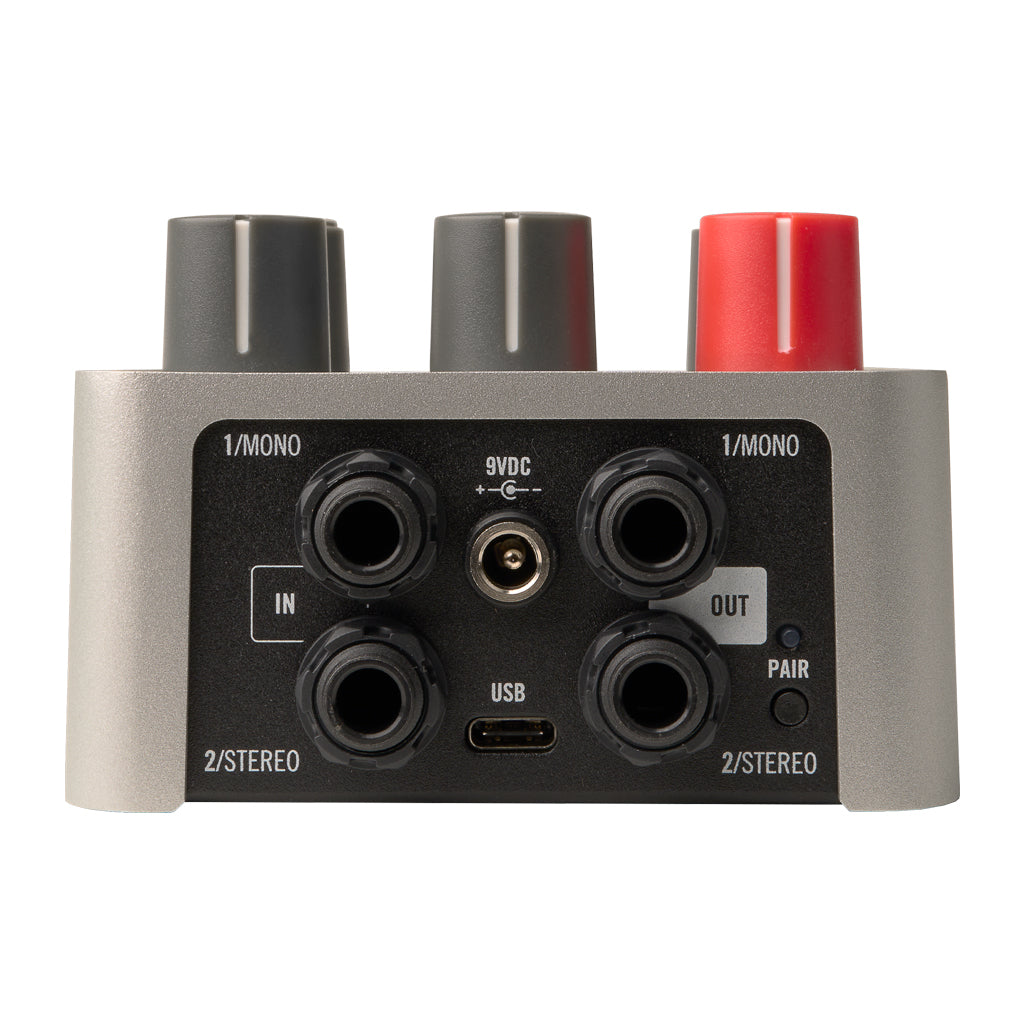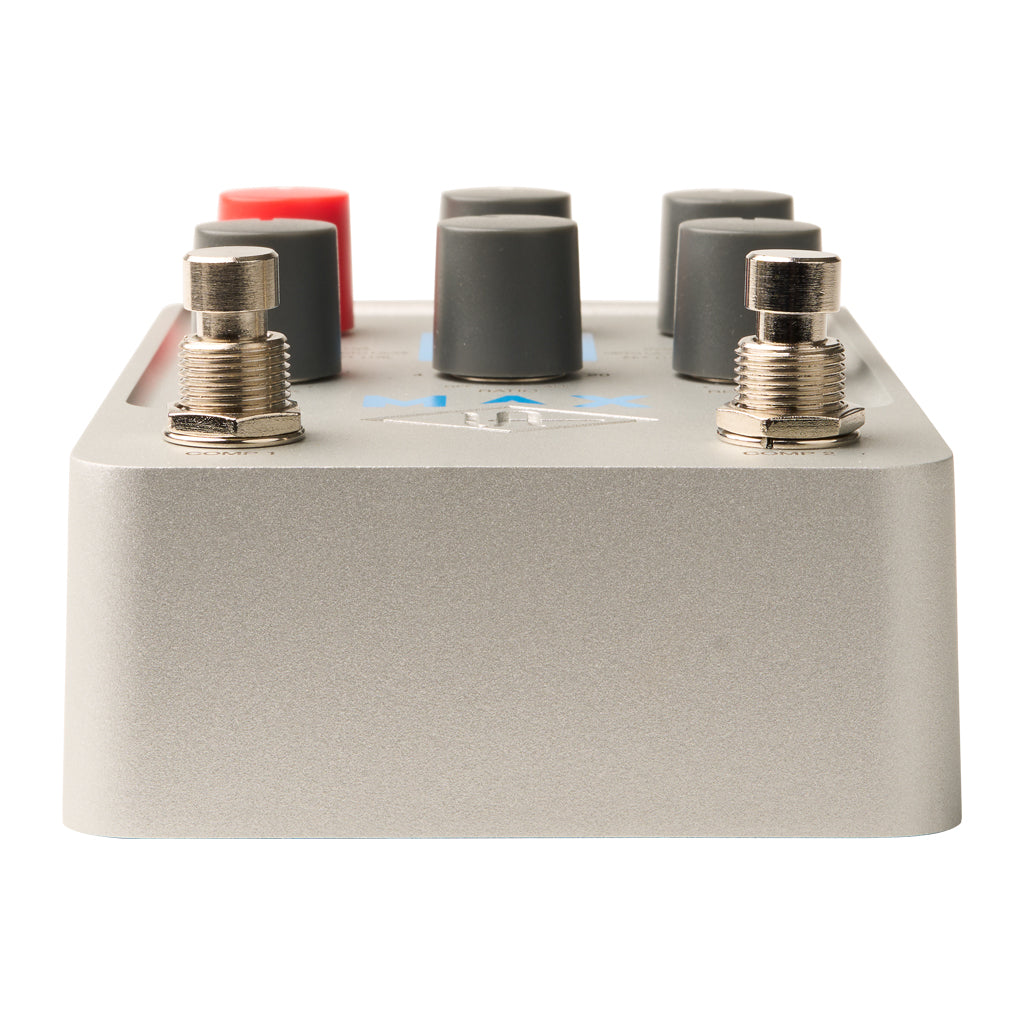 Universal Audio UAFX Max Preamp & Dual Compressor
GPM-MAX
---
In stock, ready to ship

Inventory on the way
Stereo dual compressor pedal with three iconic studio guitar effects, UA 610 tube preamp and EQ, customizable footswitches, and sidechain bass filter via the UAFX Control app.
Product Description
Your sound, perfected.
Built upon award-winning UAFX dual-engine processing and a burning desire for the ultimate in sonic legitimacy, Max Preamp & Dual Compressor puts the colorful sound of three legendary limiters and an iconic tube preamp, right at your feet. 
Explore Iconic Compression with the UA 1176
From the mind of UA founder Bill Putnam to your pedalboard, Max gives you the same FET compressor used on decades of legendary studio guitar sounds, whether you're looking to make your funk a little funkier, add soulful sustain, or inject subtle infusions of tone.
Get Warm Tube Compression with the Teletronix LA-2A
This legendary optical tube limiter gives you softer, warmer dynamics control versus the 1176. Plus, you can fine tune your compression with a pedal-exclusive Ratio feature, for limiting beyond the vintage hardware and UAD plug-in versions.
Create Funky, Dirty Tones with the Classic Dyna Comp*
Add the grimy squeeze of this (in)famous red box to your sounds for lo-fi compression and funky overdrive — perfect for sleazy slide tones.
Add a Legendary UA 610 Tube Preamp to Your Rig
Get the warm detail and character of UA's iconic tube preamp and EQ, and dial in killer sounds with the perfect amount of harmonics and grit.
Stack Compressors for Tones that Go Beyond the Norm
With Max, you can easily layer compressors in any combination for a dizzying array of sounds and textures, letting you push your tones to the front no matter how much limiting you apply.
Personalize your Pedal with a Mobile App
With the UAFX Control app, you can tweak EQ settings, get serial/parallel operation, and add a sidechain bass filter for fully customized compression and preamp effects.
*All trademarks are property of their respective owners and used only to represent the effects modeled as part of Max Preamp & Dual Compressor.
Note that Max Preamp & Dual Compressor requires a modern 400 mA isolated power supply (sold separately). Go here for power supply recommendations.
Key Features
The most authentic emulations of classic UA 1176, Teletronix LA-2A, and classic Dyna Comp compressors, in a single pedal
Full emulation of UA's legendary 610 tube preamp and EQ
Stack and layer any combination of compressors

 

Tweak preamp EQ settings, configure footswitches, add a sidechain bass filter, and more with the UAFX Control app
Silent switching, buffered bypass, stereo operation
Specifications
Power requirements: Isolated 9VDC, center-negative, 400 mA minimum (sold separately)
Inputs: 2 x ¼" TS

 

Outputs: 2 x ¼" TS

 

USB Type-C for updates via computer
Height: 2.56" (6.5 cm)
Width: 3.62" (9.2 cm)
Depth: 5.55" (14.1 cm)
Weight: 1.24 lbs (0.567 kg)
Lark Guitars Difference: Lark Guitars takes great pride in making sure your shipment will arrive timely, correctly and as hassle free as possible. With the massive shift to more remote ordering of guitars and instruments, this process can be exasperating at times. It is our goal to minimize any of these feelings, making your transaction from purchase to playing as joyfully possible. For more info regarding our shipping methods, please visit here.
International Shipping:
We ship all over the world, please contact us with any questions you may have or to receive a detailed shipping quote! More info here.