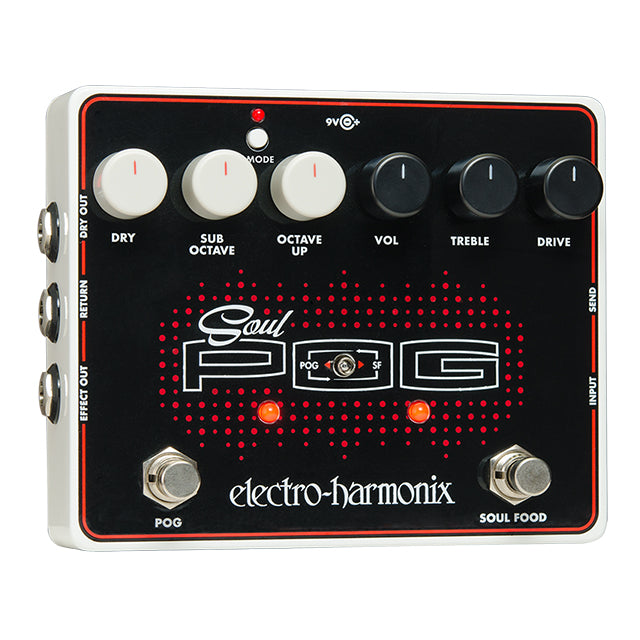 Electro-Harmonix Soul POG Multi Effect: Nano POG + Soul Food
SOULPOG
---
In stock, ready to ship

Inventory on the way
Soul POG 
Multi Effect: Nano POG + Soul Food
Combines two sweet pedals—-the Soul Food transparent overdrive and Nano POG polyphonic octave generator—-in one potent multi-effect. Use them alone or together, put either first in the chain, insert other pedals between them with the FX loop. Also includes a cool Mode switch for a choice of two different octave-up sounds. The versatile Soul POG delivers award-winning overdrive and flawless polyphonic octaves in any combination!
Featured Videos
Quick Specs
- Multi-effect pedal combines the Soul Food transparent OD and Nano POG polyphonic octave generator
- Soul Food delivers transparent overdrive with great touch, response and headroom
- Nano POG features a polyphonic sub-octave and octave up with flawless tracking
- Use either effect alone or combine them in any order
- Choose between two different octave-up sounds
- Built-in FX loop
- Includes EHX 9.6DC-200mA PSU
- Dimensions in inches: 4.75 (w) x 5.75 (l) x 2.5 (h)
- Dimensions in mm: 146 (w) x 121 (l) x 64 (h)
Lark Guitars Difference: Lark Guitars takes great pride in making sure your shipment will arrive timely, correctly and as hassle free as possible. With the massive shift to more remote ordering of guitars and instruments, this process can be exasperating at times. It is our goal to minimize any of these feelings, making your transaction from purchase to playing as joyfully possible. For more info regarding our shipping methods, please visit here.
International Shipping:
We ship all over the world, please contact us with any questions you may have or to receive a detailed shipping quote! More info here.