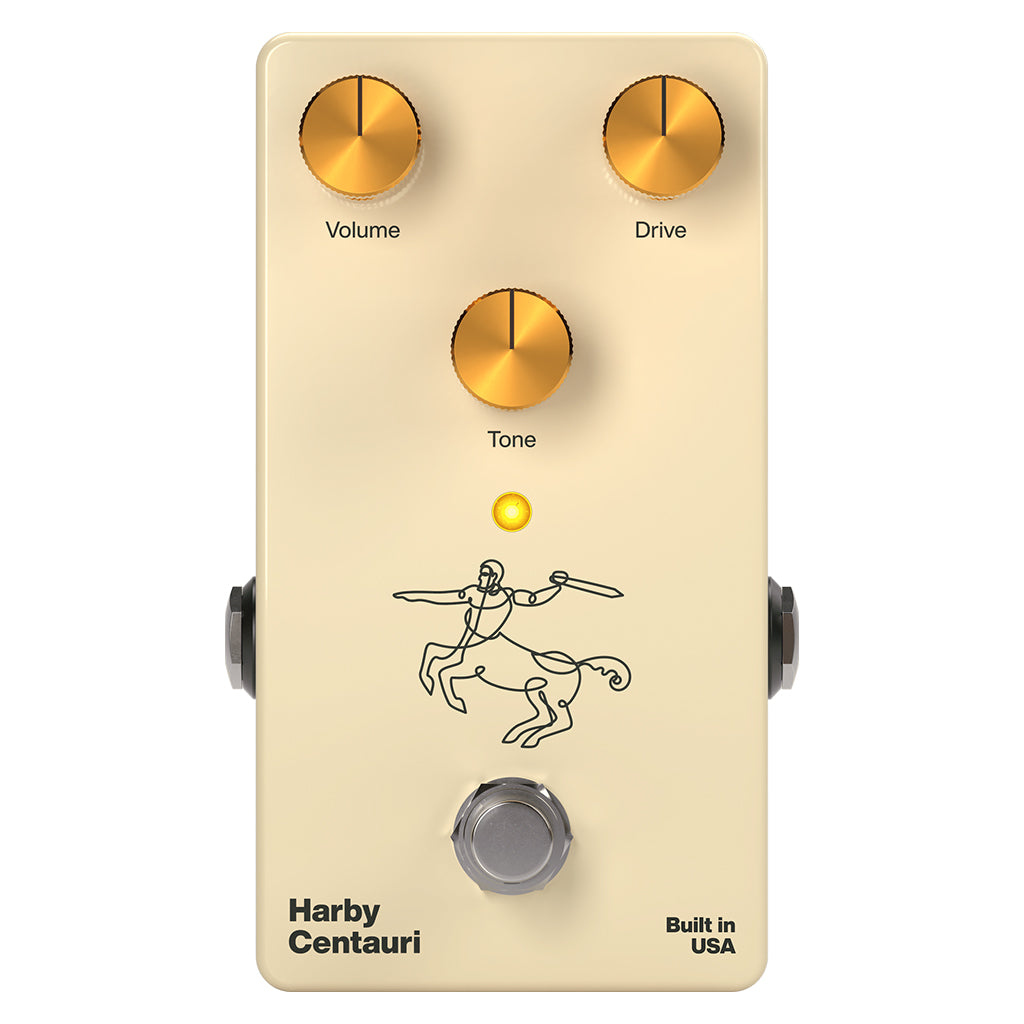 Harby Pedals Centauri Overdrive
HPCENTAURI
---
In stock, ready to ship

Inventory on the way
Overdrive / Boost / Buffer
Modernized, yet true to the original.
Modeled directly after its predecessor's circuit board, the Klon Centaur, Harby Centauri is built using the highest-quality components to give you that rich, clear Centaur sound without the Centaur price tag.
Modernized
The original Centaur's components were attached to the circuit board using "through-hole" techniques, with pins that go through the circuit board and are soldered on its underside. This process got the job done, but it was expensive and time-consuming. Eventually, Bill Finnegan began producing his pedals using surface-mount technology (SMT), attaching the components directly to the circuit board's face. This is the method we used to design the Harby Centauri.
True to the original
Bill Finnegan once said of his 1N34A germanium clipping diodes that they are "… the most important factor in how the circuit sounds when it's being used to create distortion." As a tribute to his insight, the Centauri uses only 1N34A diodes, with an original forward voltage of 0.35v (±15%). It's also built using the original Centaur circuit board layout and features its buffered bypass, rather than the more modern true bypass.
Technical
Original Centaur circuit board layout.
Gold-plated PCB (ENIG).
Genuine Texas Instruments op-amps (TL072).
NOS 1N34A germanium clipping diodes with original forward voltage of 0.35v (±15%).
Solid anodized aluminum knobs (volume, drive, and tone controls).
Neutrik input and output jacks.
Buffered bypass.
9v DC operation using a standard negative center power supply.
Lark Guitars Difference: Lark Guitars takes great pride in making sure your shipment will arrive timely, correctly and as hassle free as possible. With the massive shift to more remote ordering of guitars and instruments, this process can be exasperating at times. It is our goal to minimize any of these feelings, making your transaction from purchase to playing as joyfully possible. For more info regarding our shipping methods, please visit here.
International Shipping:
We ship all over the world, please contact us with any questions you may have or to receive a detailed shipping quote! More info here.