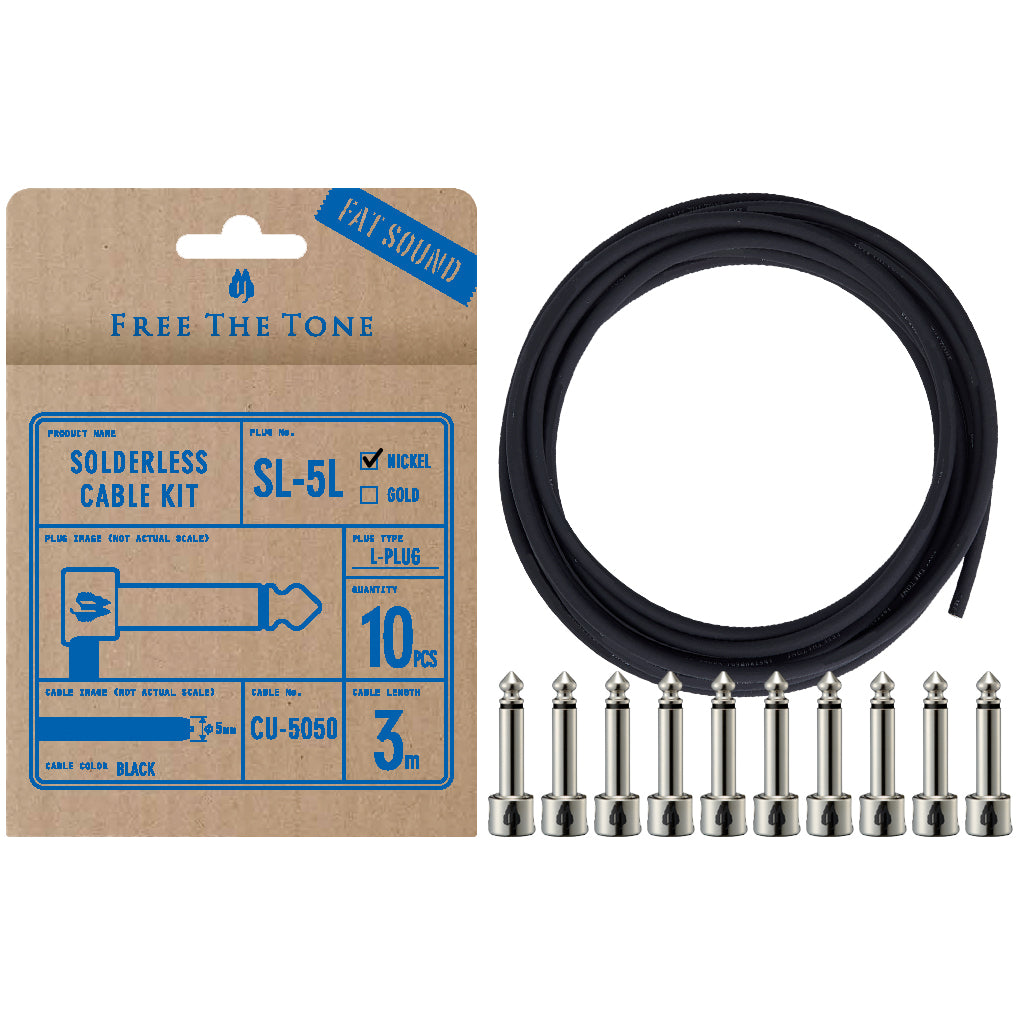 Free The Tone SL-5 Series Solderless Cable Kit - Angle (SL-5L-NI-10K)
SL-5L-NI-10K
---
In stock, ready to ship

Inventory on the way
FREE THE TONE devised its innovative ultra miniature solderless plugs (SL-8 Series) in 2012. Since solderless cables can be easily handcrafted without soldering, they are widely used these days. It has been almost seven years from the release of this product and since that time we have accumulated a lot of know-how. Over time, solderless cables must evolve too. So we decided it was the time to reconsider solderless cables in order to meet a variety of newly emerging needs. Aiming at purer signal transduction, easy and secure steps for assembly, and the joy of handcrafting cables with wider options for cable selection in sound making, FREE THE TONE has renewed its solderless cables.
CU-5050 Cable (for SL-5 Solderless Plugs)

This is the productization of our ideal for connecting effects units together based on FREE THE TONE's many years of experience in building systems. With 50 strands of ø0.08mm oxygen-free copper (OFC), this cable incorporates high sound quality, flexibility, and durability. Also its high-density braid shield makes this cable almost immune to external noise. CU-5050 features a fatter sound than CU-416.
Features
(10) SL-5L Angle Plugs, (3) Meters of CU-5050 Cable
These plugs have the simplest mechanism and are very easy to assemble. They are also designed to be very small and take a minimum amount of space.
The cable's center conductor and the plug tip are connected inside of the plug to make a tight and strong connection.
The precisely machined cap of the L plug gently bends the cable into position to provide the ideal strength and durability.
Lark Guitars Difference: Lark Guitars takes great pride in making sure your shipment will arrive timely, correctly and as hassle free as possible. With the massive shift to more remote ordering of guitars and instruments, this process can be exasperating at times. It is our goal to minimize any of these feelings, making your transaction from purchase to playing as joyfully possible. For more info regarding our shipping methods, please visit here.
International Shipping:
We ship all over the world, please contact us with any questions you may have or to receive a detailed shipping quote! More info here.