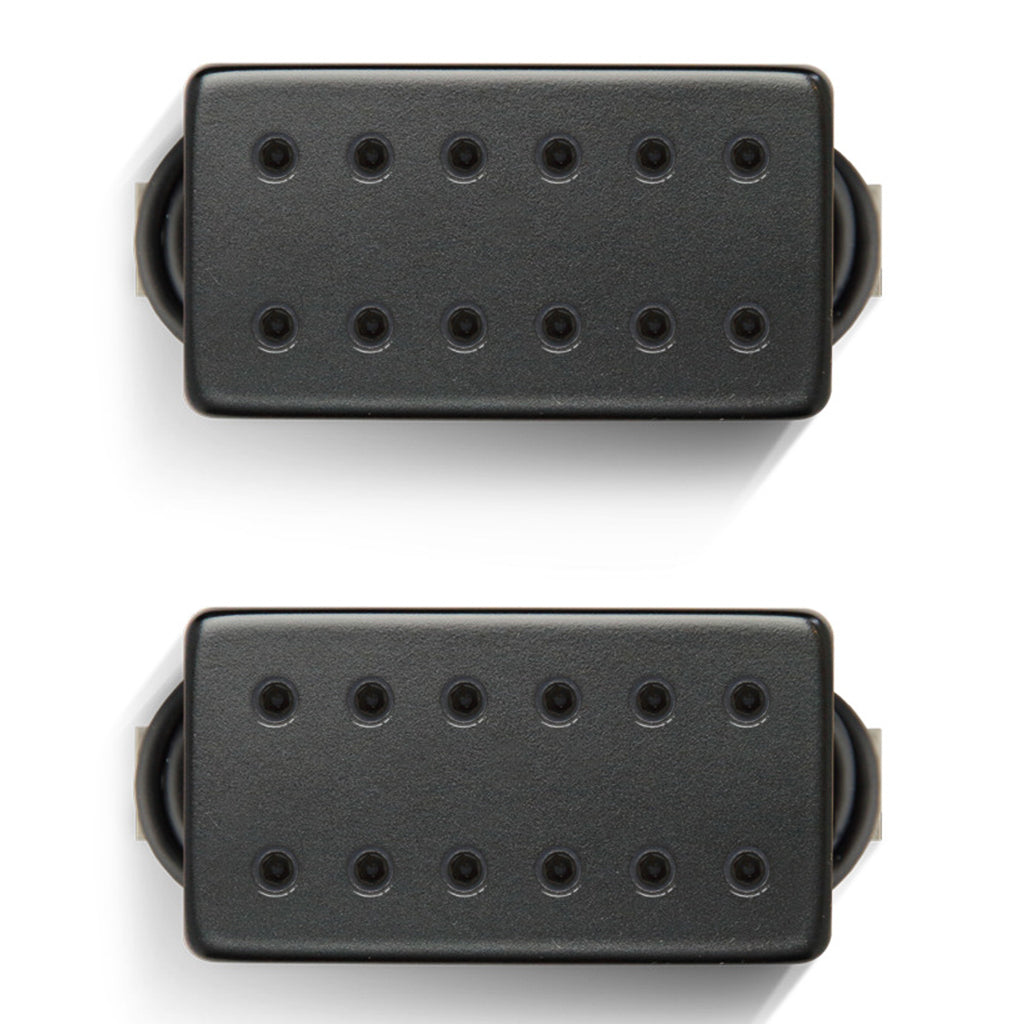 Bare Knuckle Aftermath Humbucker 6-String Set - Black Cover / Black Bolt
AFTERMATH-BLK-COV-BLK/Bolt
---
In stock, ready to ship

Inventory on the way
The Aftermath is perfect for the modern metal guitarist, with accelerated bass response for exceptionally fast tracking of high-speed staccato riffing. It has a crushing mid range and precise high-end articulation.
With a symmetrically hand-wound twin screw coil design, the Aftermath bridge is powered by 3 custom size ceramic magnets. The bottom-end responds quickly to pick attack and tracks fast riffing extremely accurately, mids are focused and intense for ultimate punch no matter how dense the mix or how low the tuning, and highs are precise and articulate. With a more compressed dynamic, single notes have masses of sustain while the front of the note is clear-cut and defined even under extreme amounts of gain.
The Aftermath neck humbucker is Alnico V powered and voiced for fat, powerful clean tones, fluid vocal-like sustain when driven hard and good balance with the bridge humbucker.
As with all Bare Knuckle humbuckers, 4 conductor hook-up not only allows access to standard series (humbucking) tone but also parallel wiring (still hum cancelling) or selection of either individual coil for total versatility.
Applications: Punk, Hardcore, Hard Rock, Progressive & Djent Metal, Nu-metal, Thrash, Death Metal, Metalcore and Extreme Metal styles.
Suitability: Any solid-body; heavily detuned and extended range guitars; any guitar needing more control in the bass and increased focus in the mids.

Specification

 Position: Bridge
DC Resistance: 14.7 kΩ
Magnet: Ceramic

Spacing: 50mm
Position: Neck
DC Resistance: 11.5 kΩ
Magnet: Alcino 5

Lark Guitars Difference: Lark Guitars takes great pride in making sure your shipment will arrive timely, correctly and as hassle free as possible. With the massive shift to more remote ordering of guitars and instruments, this process can be exasperating at times. It is our goal to minimize any of these feelings, making your transaction from purchase to playing as joyfully possible. For more info regarding our shipping methods, please visit here.
International Shipping:
We ship all over the world, please contact us with any questions you may have or to receive a detailed shipping quote! More info here.