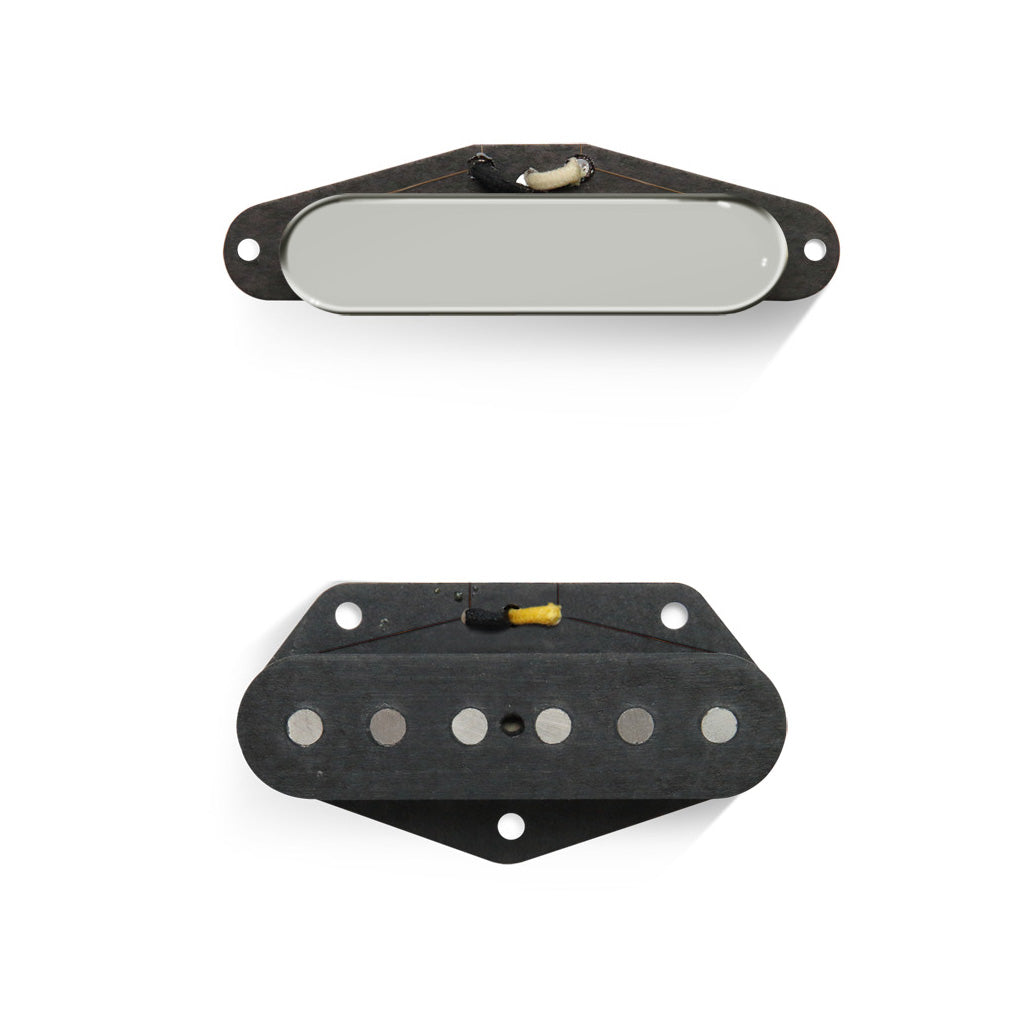 Bare Knuckle Flat 50 Tele Pickup Set - Nickel
Flat 50 Nickel
---
In stock, ready to ship

Inventory on the way
Based on player requests for Telecaster® tones from specific eras and backed up by meticulous research, the Blackguard Tele® Series is a collection of four classic Tele® sets ranging from the original 'blackguard' Teles® of 1950 through to later 1968 models.
Scatter-wound by hand with 43AWG plain enamel wire on both bridge and neck, these coils are pure Broadcaster heaven. This is the hottest of the four sets (Flat '50, Flat '52, '55 Stagger and '68 Stagger) with a thicker zinc plated steel baseplate, flat profile magnets and authentic vintage 'flat top' deep-drawn brass cover; the Flat 50s have a simply massive sound. Chunky bottom-end and snarling mids create a throaty tone with excellent natural sustain that can really push a tube amp hard.
Applications: Blues, Country, Jazz, Funk, Indie, Pop, Britpop, Classic Rock.
Suitability: The Flat '50 and Flat '52 set are well suited to maple boards or any application that requires extra output and a fatter tone. The '55 and '68 Stagger sets are best suited rosewood board Teles or any Tele that would benefit extra cut in the highs.

Specification
Position: Bridge
DC Resistance: 10.6 kΩ
Magnet: Alcino 5

Position: Neck

DC Resistance: 6.8 kΩ

Magnet:  Alcino 5

Lark Guitars Difference: Lark Guitars takes great pride in making sure your shipment will arrive timely, correctly and as hassle free as possible. With the massive shift to more remote ordering of guitars and instruments, this process can be exasperating at times. It is our goal to minimize any of these feelings, making your transaction from purchase to playing as joyfully possible. For more info regarding our shipping methods, please visit here.
International Shipping:
We ship all over the world, please contact us with any questions you may have or to receive a detailed shipping quote! More info here.