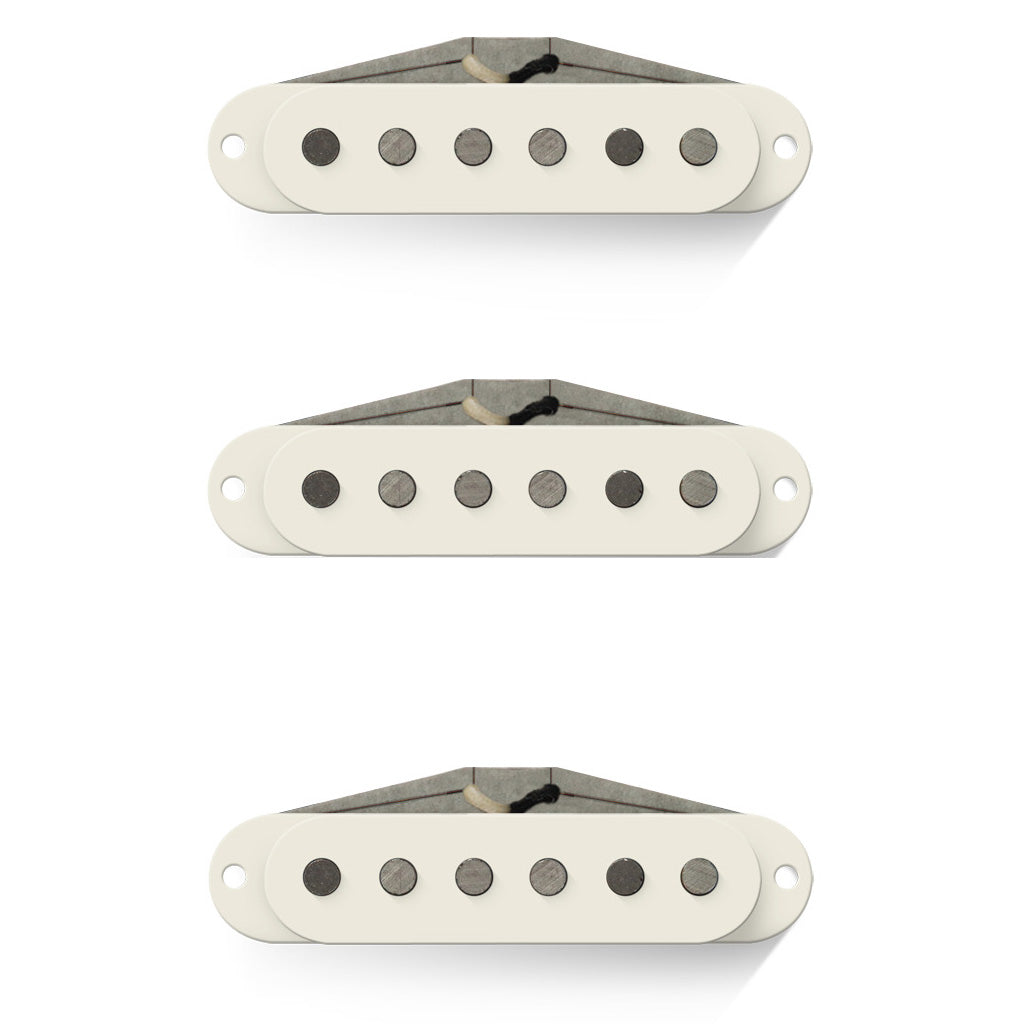 Bare Knuckle Irish Tour Single Coil Set - Parchment
IRISH-SET-STAG-PAR
---
In stock, ready to ship

Inventory on the way
The Irish Tours are a true hot vintage wound set of single coils; warm highs, grinding mids and fat bottom end produce a massive powerhouse Strat tone.
The Irish Tour single coils take the 42 AWG plain enamel wind to the max with a clarity and depth that can only be achieved through hand-winding. Although big strings and strong hands result in a huge tone, the powerful output of the Irish Tour coils allows mere mortals an equally big and gutsy sound.
Low notes have a fuller, richer tone with more weight in the mids, while the high strings respond with a rounder chime and warmer harmonics. The hotter wound bridge can push a tube amp into natural overdrive while the calibrated mid and neck coils retain the hollow, woodiness of the Bare Knuckle Pickups Mother's Milk coils but with extra output.
Applications: Blues, Funk, Indie, Pop, Garage, Punk & Classic Rock.
Suitability: Brighter Alder and Ash body Strats, maple boards or any Strat that would benefit from a fatter vintage tone with more control in the high-end.
Specification

 Position: Bridge
DC Resistance: 7.4 kΩ
Magnet: Alcino 5

Position: Middle
DC Resistance: 6.3 kΩ
Magnet: Alcino 5

Position: Neck
DC Resistance: 6.3 kΩ
Magnet: Alcino 5

Lark Guitars Difference: Lark Guitars takes great pride in making sure your shipment will arrive timely, correctly and as hassle free as possible. With the massive shift to more remote ordering of guitars and instruments, this process can be exasperating at times. It is our goal to minimize any of these feelings, making your transaction from purchase to playing as joyfully possible. For more info regarding our shipping methods, please visit here.
International Shipping:
We ship all over the world, please contact us with any questions you may have or to receive a detailed shipping quote! More info here.