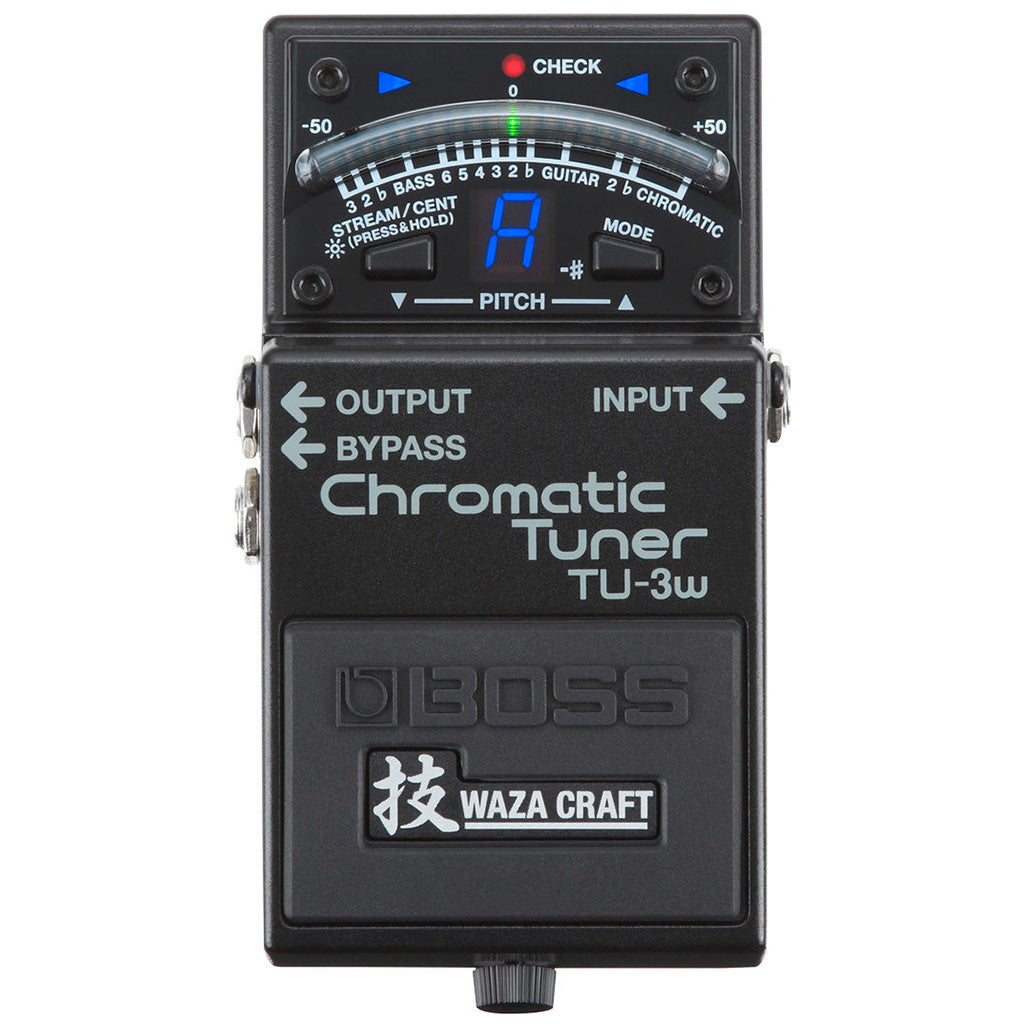 Boss TU-3W Waza Craft Chromatic Tuner
TU-3W
---
In stock, ready to ship

Inventory on the way
THE LEADING STOMPBOX TUNER, REFINED WITH WAZA EXPERTISE
With the TU-3W, BOSS brings Waza Craft mojo to the world's leading stompbox tuner. At its core, the TU-3W provides rock-solid tuning equivalent to the industry-standard TU-3. In true Waza tradition, the pedal's benchmark functionality is further enhanced with BOSS skill and craftsmanship. Pure, uncolored signal transfer is essential for a tuner, and the TU-3W features redesigned circuitry with selectable buffered or true-bypass operation and the most transparent audio pass-through possible. Packing high-end performance for discriminating players, the TU-3W delivers a premium pedal experience only available from BOSS.
The world's leading stompbox tuner, enhanced with Waza innovation and craftsmanship
Superior tuning and premium signal buffer in one pedal
Tuning functions are identical to the industry-standard TU-3
Refined audio circuitry for exceptionally pure signal pass-through
Buffer can be turned off for true-bypass operation
BOSS five-year warranty
Waza Craft: The Art of Superior Tone

Since the beginning, the engineers at BOSS have been committed to achieving the finest guitar tones using any technology necessary, from old-school analog circuits to high-tech DSP. Continuing this enthusiastic spirit, we are pleased to introduce the Waza Craft series. In Japan, "Waza" is the term for art and technique, and these special edition pedals proudly carry the Waza symbol to represent the pinnacle of BOSS design and craftsmanship. With final sound approval carried out by BOSS in Japan, the Waza Craft series brings you exceptional tone and touch response through carefully selected analog components, refined circuitry, and meticulous attention to detail.
SPECIFICATIONSTuning RangeC0 (16.35 Hz)--C8 (4,186 Hz)Reference PitchA4 = 436--445 Hz (1 Hz step)Tuning Accuracy+/- 1 centModesChromatic
Chromatic flat x2
Guitar
Guitar flat x2
Bass
Bass flat x3Display modeCent mode
Stream modePower SupplyAlkaline battery (9V, 6LR61) or Carbon-zinc battery (9V, 6F22)
AC adaptor (sold separately)BypassBuffered bypass or True bypassControlsPedal switch
OUTPUT switch (BUF/THRU SW)
MODE button
STREAM/CENT buttonNominal Input Level-20 dBuInput Impedance1 M ohmNominal Output Level-20 dBuOutput Impedance1 k ohmRecommended Load Impedance10 k ohms or greaterIndicatorCHECK indicator (Serves also as battery check indicator)ConnectorsINPUT jack
OUTPUT jack
DC IN jack
DC OUT jackCurrent Draw60 mA (DC 9 V)
110 mA (DC 9 V, when High Brightness mode is on)Expected battery life under continuous use (These figures will vary depending on the actual conditions of use.)Alkaline: Approx. 6 hours
Carbon: Approx. 0.5 hoursAccessoriesOwner's Manual
Leaflet ("USING THE UNIT SAFELY," "IMPORTANT NOTE," and "Information")
Alkaline battery (9V, 6LR61)Options (sold separately)AC adaptor: PSA series
Parallel DC cord: PCS-20A (DC Plug x8)SIZE AND WEIGHTWidth73 mm
2-7/8 inchesDepth129 mm
5-1/8 inchesHeight59 mm
2-3/8 inchesWeight (including battery)460 g
1 lb 1 oz
Lark Guitars Difference: Lark Guitars takes great pride in making sure your shipment will arrive timely, correctly and as hassle free as possible. With the massive shift to more remote ordering of guitars and instruments, this process can be exasperating at times. It is our goal to minimize any of these feelings, making your transaction from purchase to playing as joyfully possible. For more info regarding our shipping methods, please visit here.
International Shipping:
We ship all over the world, please contact us with any questions you may have or to receive a detailed shipping quote! More info here.