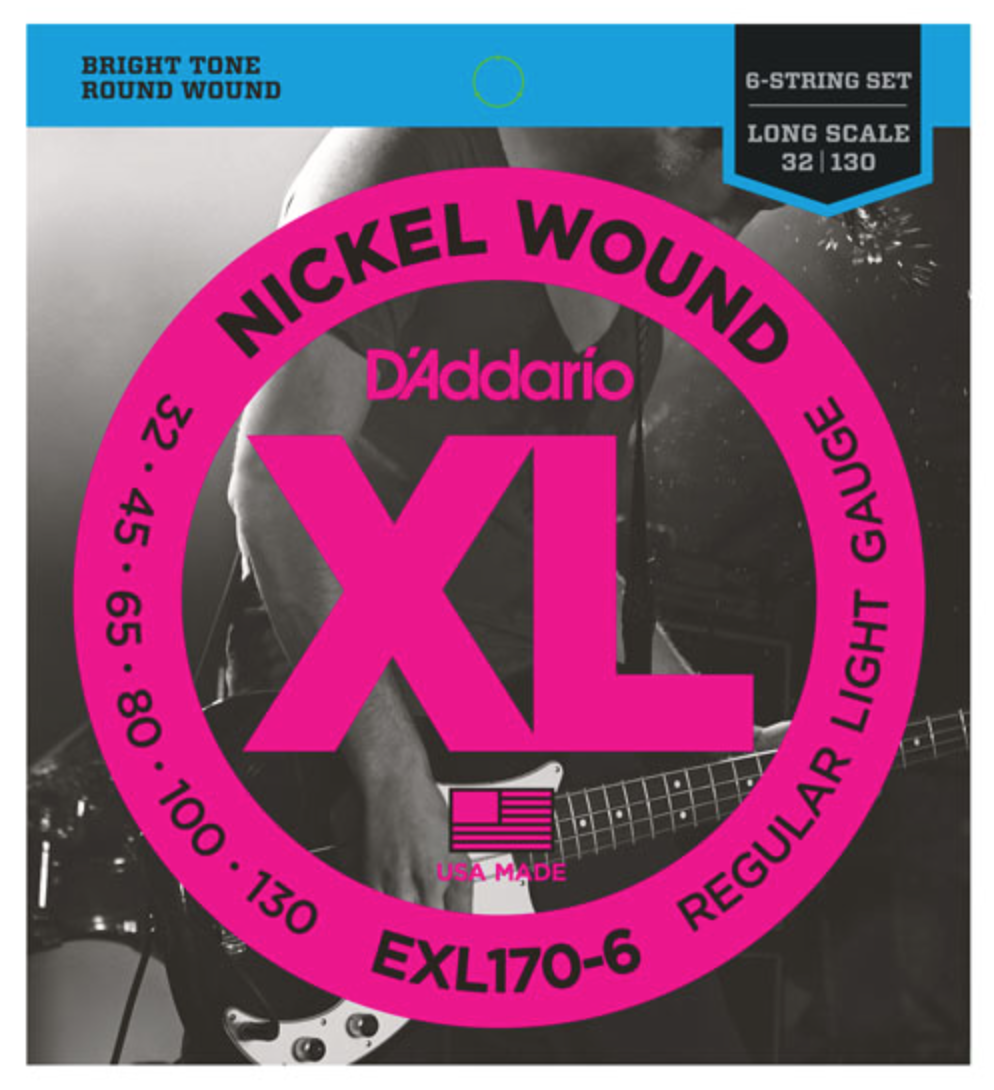 D'Addario EXL170-6 6-String Nickel Wound Regular Light Bass Strings 32-130
EXL170-6
---
In stock, ready to ship

Inventory on the way
EXL170-6 is a 6-string version of the best-selling D'Addario bass set. With the addition of the .130 low B and wound .32 high C strings, this set offers the ideal combination of distinctive bright, booming tone and comfortable feel. The most versatile and universally appealing set for all playing styles. Fits long scale basses with a string scale length of up to 36 1/4 inches. 
D'Addario XL Nickel Wound Electric Bass strings are world-renowned as "The Player's Choice" amongst bass players of all genres and styles. All XL strings are precision wound on our exclusive digitally-controlled machines, ensuring each string has excellent intonation, clear fundamentals, and unparalleled consistency. Each string is wound with a nickelplated steel wrap wire known for distinctive bright tone with excellent magnetic output delivering a universally appealing and versatile tone for all playing styles.
6-string version of D'Addario's best selling bass guitar set
Round wound with nickelplated steel for a distinctive bright tone with clear fundamentals
Fits long scale basses with a string scale length of up to 36 1/4 inches
Made in the U.S.A. for the highest quality and performance
String Gauges: Wound .032, .045, .065, .080, .100,.130
Environmentally friendly, corrosion resistant packaging for strings that are always fresh
Tension Chart
    Diameter    
    Tension    
Item #
Note
Inches
mm
lbs
kg
XLB032
C
0.0320
0.8128
38.980
17.680
XLB045
G
0.0450
1.1430
42.520
19.290
XLB065
D
0.0650
1.6510
48.350
21.930
XLB080
A
0.0800
2.0320
40.050
18.170
XLB100
E
0.1000
2.5400
34.720
15.750
XLB130
B
0.1300
3.3020
32.140
14.580
Lark Guitars Difference: Lark Guitars takes great pride in making sure your shipment will arrive timely, correctly and as hassle free as possible. With the massive shift to more remote ordering of guitars and instruments, this process can be exasperating at times. It is our goal to minimize any of these feelings, making your transaction from purchase to playing as joyfully possible. For more info regarding our shipping methods, please visit here.
International Shipping:
We ship all over the world, please contact us with any questions you may have or to receive a detailed shipping quote! More info here.