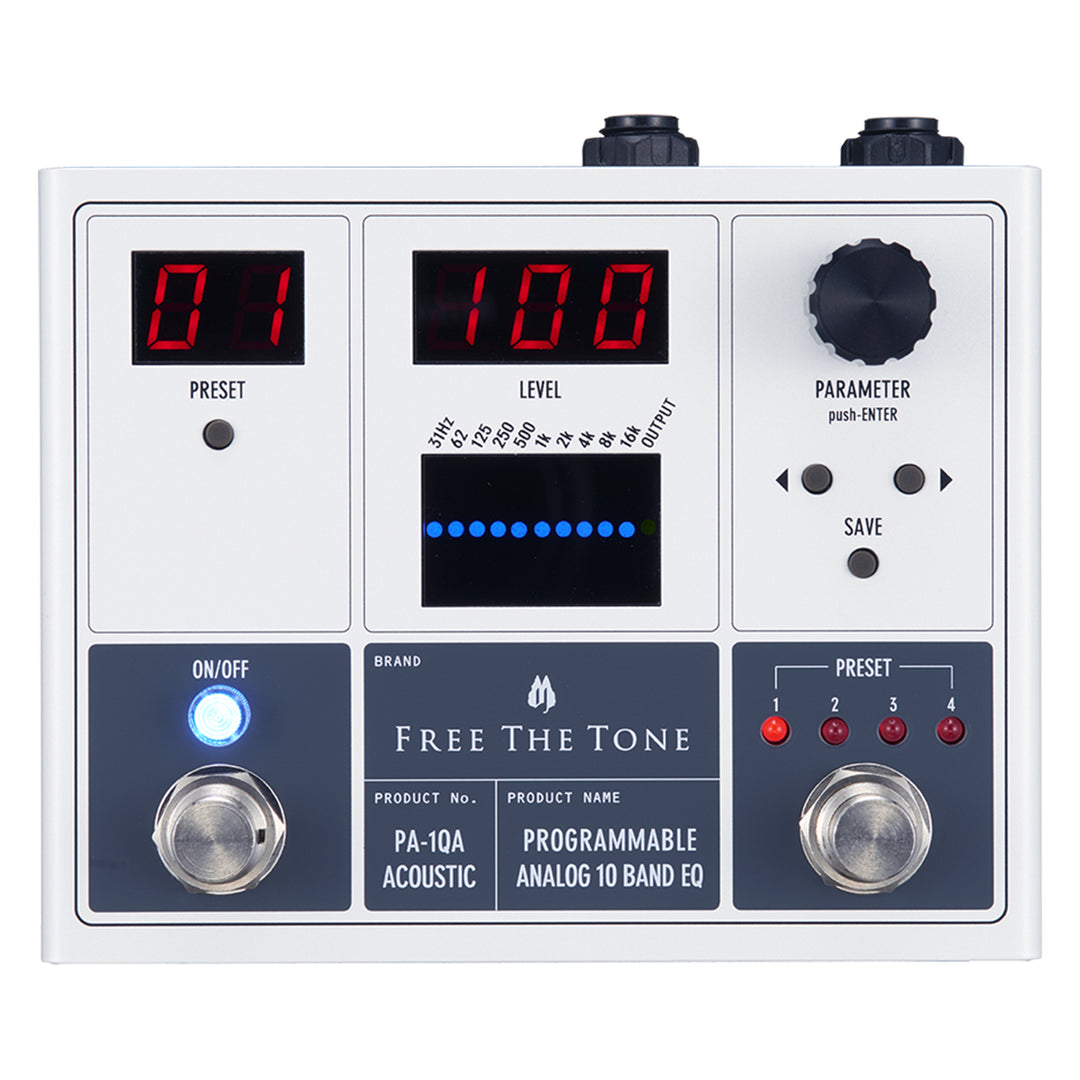 Free The Tone Programmable Analog 10 band EQ for Acoustic Guitar PA-1QA
PA-1QA
---
In stock, ready to ship

Inventory on the way
The Free The Tone PA-1QG (for guitar)/PA-1QB (for bass) is an epoch-making device produced by pursuing integration of digital and analog technologies cultivated through the development of the AMBI SPACE and TRI AVATAR.

At first glance the PA-1QG/PA-1QB looks like a digital equalizer effects unit but it is an "analog equalizer." Including I/O sections, its equalizer circuits through which the guitar/bass signals pass are all fully analog and contour the rich tones of your guitar/bass as analog signals. This is the same signal processing method you will find in graphic equalizers with conventional slider volume controls. The PA-1QG/PA-1QB is an analog effects unit, but its parameter control section is a digital circuit that can precisely store and process the status of various parameters in the digital domain. This enables real-time parameter control via presets and MIDI.

After more than ten years of development from its conception and repeated trial and error processes, Free The Tone has finally completed its innovative product PA-1QG/PA-1QB.
The PA-1QG/PA-1QB is an effects unit that fuses rich analog sound with the ease and versatility of a digital control device while maintaining a high level of sound quality. Experience its state-of-the-art sound and operability for yourself!
FEATURE
All of the equalizer circuits (including I/O sections) that pass instrument signals are fully analog and the parameter control section is a digital circuit. This allows for real-time control via preset recalling and MIDI.
The HTS (Holistic Tonal Solution) circuit which is one of the major features of the Free The Tone products has been renewed with this product release. It holistically manages high-quality guitar/bass signals from input to output to keep the sound texture the same whether the effect is on or off.
The 10-band equalizer's frequencies are selected specially for guitar and for bass and the frequencies and equalizer curves are optimized for each instrument to allow more useful and minute adjustments.
Any of 99 presets can be recalled instantly by control via MIDI signals.
The PA-1QG/PA-1QB can be used not only as an equalizer effects unit but also as a preset volume controller that manages sound level in each preset. It is equally suitable to applications to increase the volume of solo playing or to level out individual differences in output levels when switching between multiple guitars/basses.
SPECIFICATIONS
Number of presets: 99
Input impedance: INST min. 1 MΩ / LINE min. 300 kΩ
Output load impedance: min. 10 kΩ
Max. input level: INST +4 dBm / LINE +14 dBm (EQ setting = flat)
Controls: ◀︎▶︎ cursor keys, PARAMETER encoder, INST(-10dB)/LINE(+4dB) level selector switch
Frequencies:
PA-1QG/50 Hz, 100 Hz, 200 Hz, 400 Hz, 800 Hz, 1500 Hz, 2500 Hz, 3500 Hz, 7 kHz, 10 kHz (±12 dB)
PA-1QB: 40 Hz, 80 Hz, 125 Hz, 250 Hz, 500 Hz, 800 Hz, 1200 Hz, 2400 Hz, 4500 Hz, 8 kHz (±12 dB)
Terminals: 1/4" standard phone jack x 2 (input and output) DC9V input jack (for AC adapter), DIN 5-pin connector x 2 (MIDI IN and OUT/THRU)
Power supply: Dedicated DC9V AC adapter
Current consumption: max. 200 mA
Dimensions (W x D x H): 120 x 102.3 x 58.5 mm or 4.7 x 4.0 x 2.3 inches (incl. protuberances such as footswitch, jacks, etc.)
Weight (excl. accessories): approx. 350 g or 0.77 lbs
Accessories: Warranty card, manual, AC adapter, rubber feet x 4
Specifications and appearance subject to change without notice.
Lark Guitars Difference: Lark Guitars takes great pride in making sure your shipment will arrive timely, correctly and as hassle free as possible. With the massive shift to more remote ordering of guitars and instruments, this process can be exasperating at times. It is our goal to minimize any of these feelings, making your transaction from purchase to playing as joyfully possible. For more info regarding our shipping methods, please visit here.
International Shipping:
We ship all over the world, please contact us with any questions you may have or to receive a detailed shipping quote! More info here.