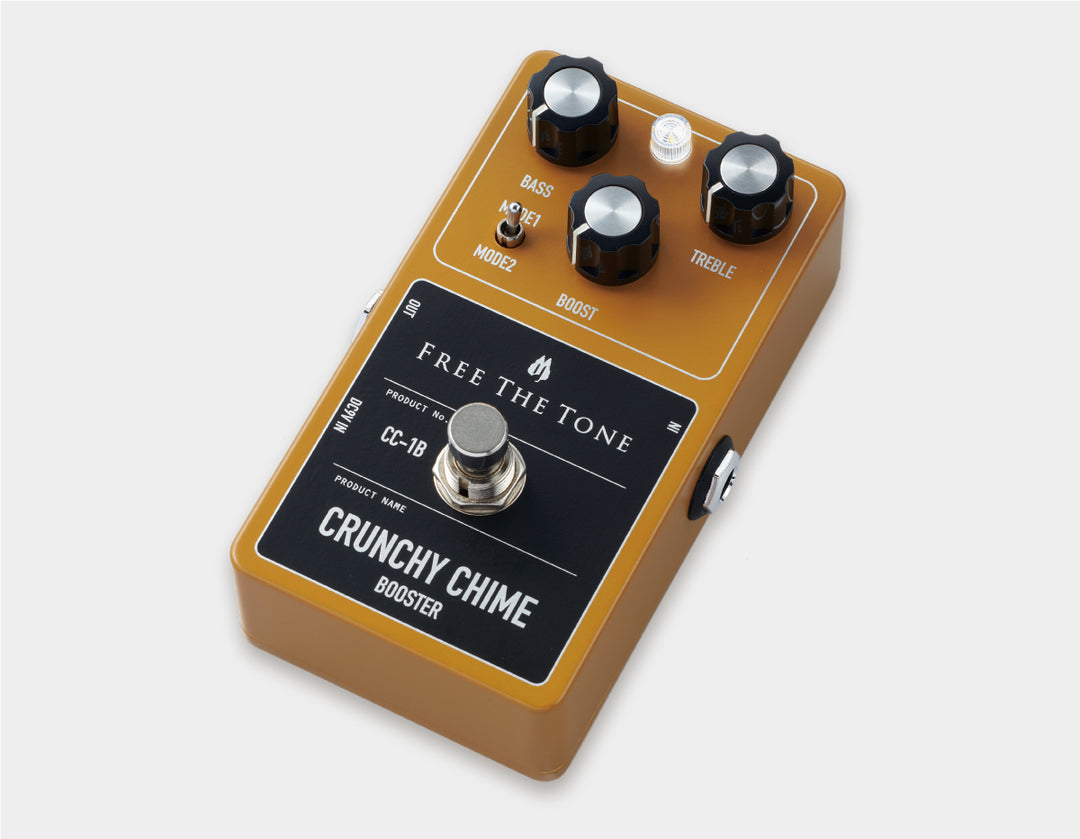 Free The Tone Standard Series CC-1B Crunchy Chime
CC-1B
---
In stock, ready to ship

Inventory on the way
The CRUNCHY CHIME is our new booster unit with an equalizer function. A point worthy of special mention regarding this product is its harmonic components. The boost circuit that generates such rich higher harmonics is the result of our research on the harmonic components of vintage guitars and amplifiers. One of the attractive features of vintage musical equipment is its abundant and brilliant harmonics. We completed this boost circuit after various experiments and tests to learn the secrets of pleasant overtones that are never strident. With this product, you will feel greater vibrations from your strings and your guitar/bass will sound much livelier.

Every amplifier has different characteristics and there can be a problem such as a booster making the lower register sound dull. Actually, in the development stages, we had difficulties with these ample harmonics sounding muddy on some of the amplifiers we tested with, as unnecessary harmonic components conflicted each other to yield a harsh sound, etc. So we thought it is necessary to be able to adjust the frequency characteristics to match the gear being used and to get closer to an ideal sound. Our specially developed new equalization circuit creates a natural sound as if you were not using an equalizer for making tone adjustments for boost/cut. The characteristics become flat when both the TREBLE and BASS knobs are set to the 12 o'clock position.
A MODE switch to select frequencies is provided for the equalizer's BASS control. This works well for the lower register of a 7-string guitar or bass guitar.

Born from a new way of thinking, the "CRUNCHY CHIME," a booster with equalizer, greatly widens the range of sounds from your guitar or bass and increases the pleasure of playing and sound making.

Specification
| | |
| --- | --- |
| Input impedance | min. 500kΩ |
| Output load impedance | min. 10kΩ |
| Controls | BOOST(-16dB~+17dB), TREBLE, BASS, MODE Switch |
| Terminals | 2 x 1/4" standard phone jacks (input, output), DC9V input jack (for AC adapter connection) |
| Power supply | 9-volt PP3 battery, AC adapter |
| Current consumption | 7mA |
| Dimensions | (W x D x H): 72 x 115 x 50 mm (incl. protuberances such as footswitches, jacks, etc.) |
| Weight | approx. 230 g (excl. accessories) |
| Accessories | Warranty card, manual, 4 x rubber feet |
Lark Guitars Difference: Lark Guitars takes great pride in making sure your shipment will arrive timely, correctly and as hassle free as possible. With the massive shift to more remote ordering of guitars and instruments, this process can be exasperating at times. It is our goal to minimize any of these feelings, making your transaction from purchase to playing as joyfully possible. For more info regarding our shipping methods, please visit here.
International Shipping:
We ship all over the world, please contact us with any questions you may have or to receive a detailed shipping quote! More info here.