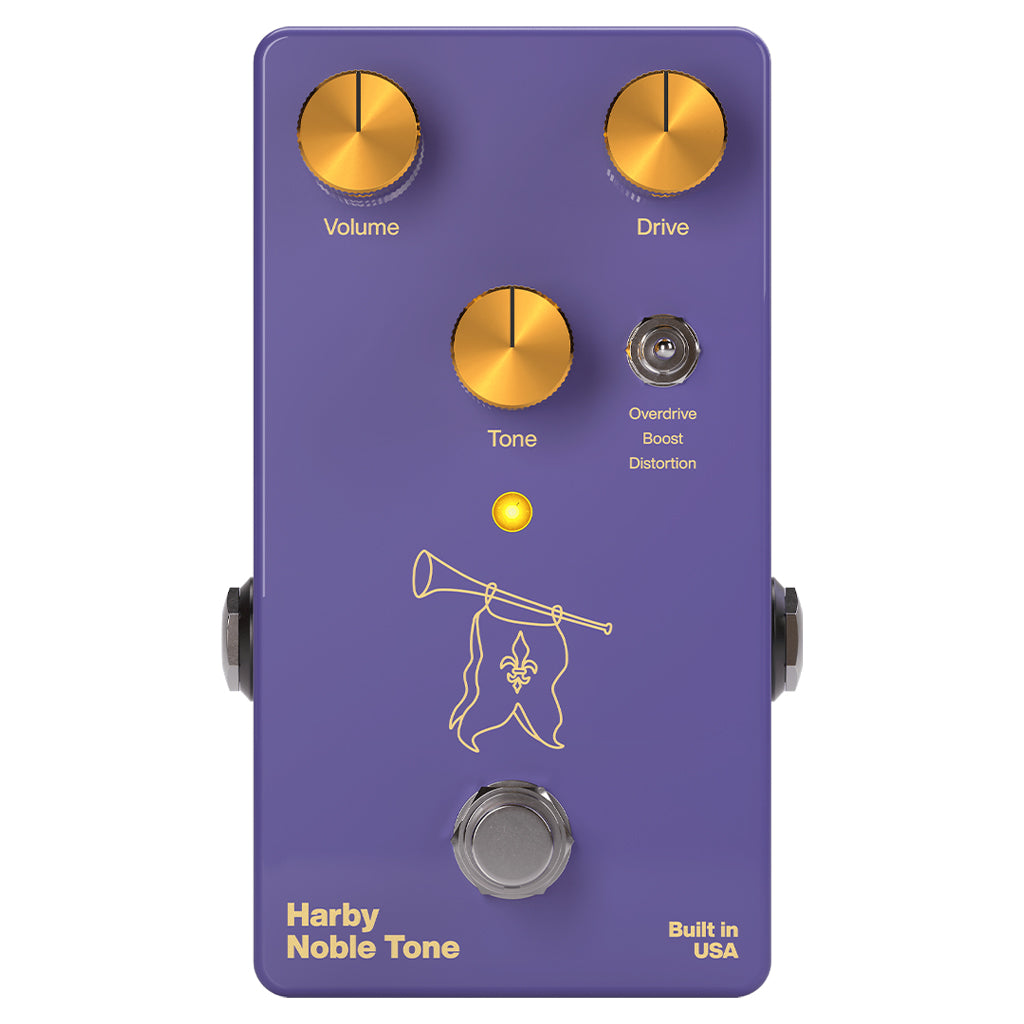 Harby Pedals Noble Tone Overdrive
HPNOBLE
---
In stock, ready to ship

Inventory on the way
Overdrive / Boost / Distortion
Royal heritage, contemporary form.
Taking inspiration from Analog Man's Prince of Tone overdrive, the Harby Noble Tone is based on the same schematic to give you the same organic-sounding tube distortion. Built in the USA with high-quality components. And the best part? No waiting list.
Just Like the Original
The Noble Tone, like the Prince of Tone, has two internal DIP switches, which add some subtlety to the knob settings and modes. Our pedal also employs the internal treble trimpot to add high-end, as well as the JRC4580D IC (integrated circuit) New Japan Radio, Co., Ltd. chip.
Modernized
The MA856 silicon through-hole clipping diodes found in the original Prince of Tone are no longer available or in production. So we use the closest diode currently available for the Noble Tone, the BAS33 silicon through-hole clipping diode. Like the MA856, the BAS33 clips at approximately 0.82v. After comparing the curves on a Peak DCA75—across the current test range—we can confirm that they are a close match to the MA856.
Capabilities
The default position of the internal treble trimpot is turned completely counter-clockwise, but as you turn it up, it will add high-end. The Internal Mids DIP switch will add low-mids to your signal by increasing the filter frequency of the first op-amp gain stage, while the Internal Gain DIP switch (the Turbo switch) will double the gain ratio of the second op-amp stage so that the diodes will clip more easily. The gain modes work just like they do on the Prince of Tone.
Technical
JRC4580D New Japan Radio, Co., Ltd. opamp IC chip.
Gold plated PCB (ENIG).
BAS33 silicon through-hole clipping diodes with the original voltage of 0.82v.
Solid anodized aluminum knobs.
Internal treble trimpot.
Internal mids and internal gain DIP switches.
Neutrik jacks.
High quality foot switch (rated at over 30,000 actuations).
Lark Guitars Difference: Lark Guitars takes great pride in making sure your shipment will arrive timely, correctly and as hassle free as possible. With the massive shift to more remote ordering of guitars and instruments, this process can be exasperating at times. It is our goal to minimize any of these feelings, making your transaction from purchase to playing as joyfully possible. For more info regarding our shipping methods, please visit here.
International Shipping:
We ship all over the world, please contact us with any questions you may have or to receive a detailed shipping quote! More info here.