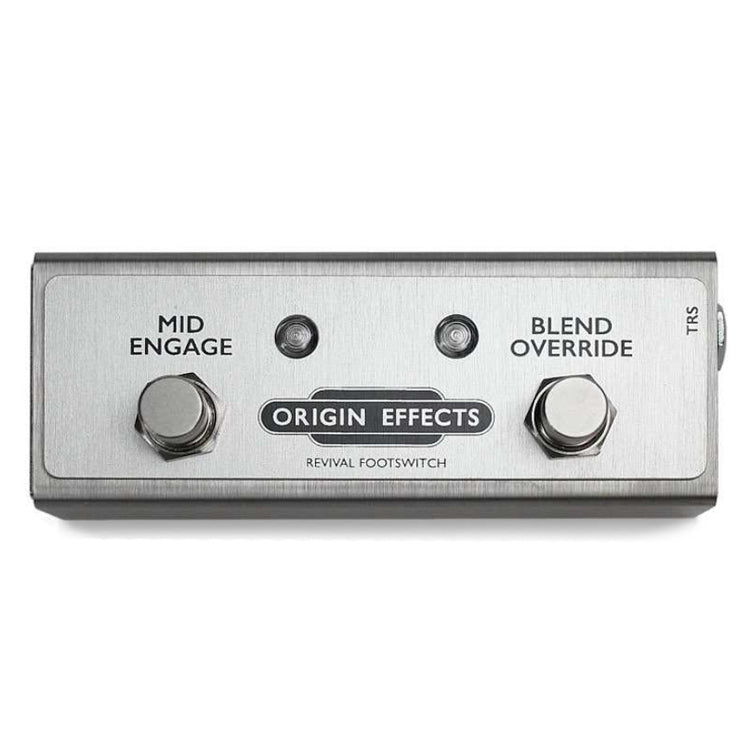 Origin Effects Revival Drive Footswitch
RD-FS
---
In stock, ready to ship

Inventory on the way
Add even more flexibility to the RevivalDRIVE with footswitchable mid-boost and dry blend!
MID ENGAGE

With the pedal's MID ASSIGN switch set to F/SWITCH, this allows you to apply the adjustable mid boost to whichever channel is currently selected.
Please note: the MID BOOST is applied to both the DRY and O.D. signals mixed by the BLEND control. The MID BOOST function is not active when the pedal is in BYPASS mode.

DRY OVERRIDE

This footswitch "overrides" or removes each channel's BLEND control from the signal path. With the BLEND knob set for a mix of DRY and O.D. signals, engaging the DRY OVERRIDE effectively removes the DRY component and reverts to a 100% O.D. signal.

This offers additional flexibility akin to having another channel on your amp. For example, with the channel controls set for medium gain and the BLEND knob at 12 o'clock, engaging the DRY OVERRIDE footswitch lets you go from an organic clean tone with a little grit to a fully overdriven sound for solos.

By carefully adjusting the DRY GAIN trimmer, you can control the change in volume – up, down or unity gain – that occurs when engaging DRY OVERRIDE. For example, you could set up your core drive tone with DRY OVERRIDE engaged, then transition to a cleaner sound of equal or greater volume by disengaging DRY OVERRIDE and turning the DRY GAIN control up.
The Revival Footswitch includes a TRS patch cable. We believe that even patch cables should be of the highest quality, which is why we make ours with Van Damme cable and Amphenol connectors.
Lark Guitars Difference: Lark Guitars takes great pride in making sure your shipment will arrive timely, correctly and as hassle free as possible. With the massive shift to more remote ordering of guitars and instruments, this process can be exasperating at times. It is our goal to minimize any of these feelings, making your transaction from purchase to playing as joyfully possible. For more info regarding our shipping methods, please visit here.
International Shipping:
We ship all over the world, please contact us with any questions you may have or to receive a detailed shipping quote! More info here.