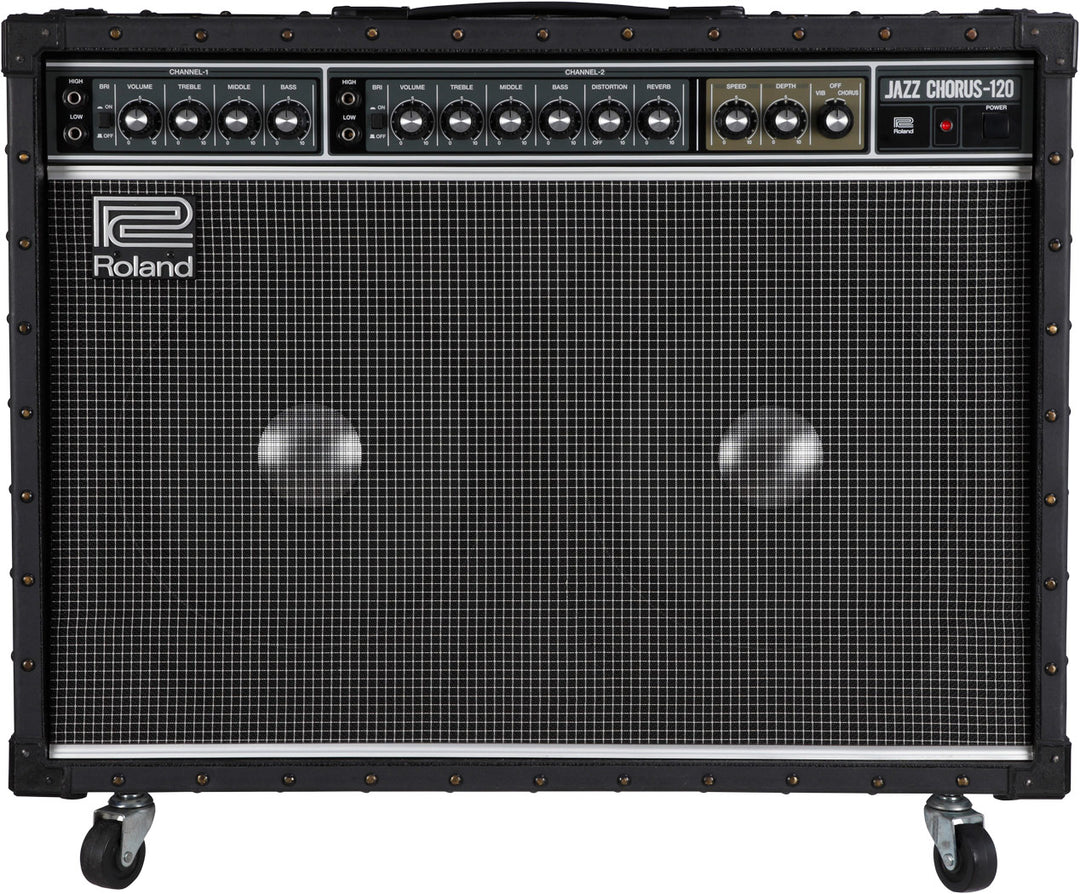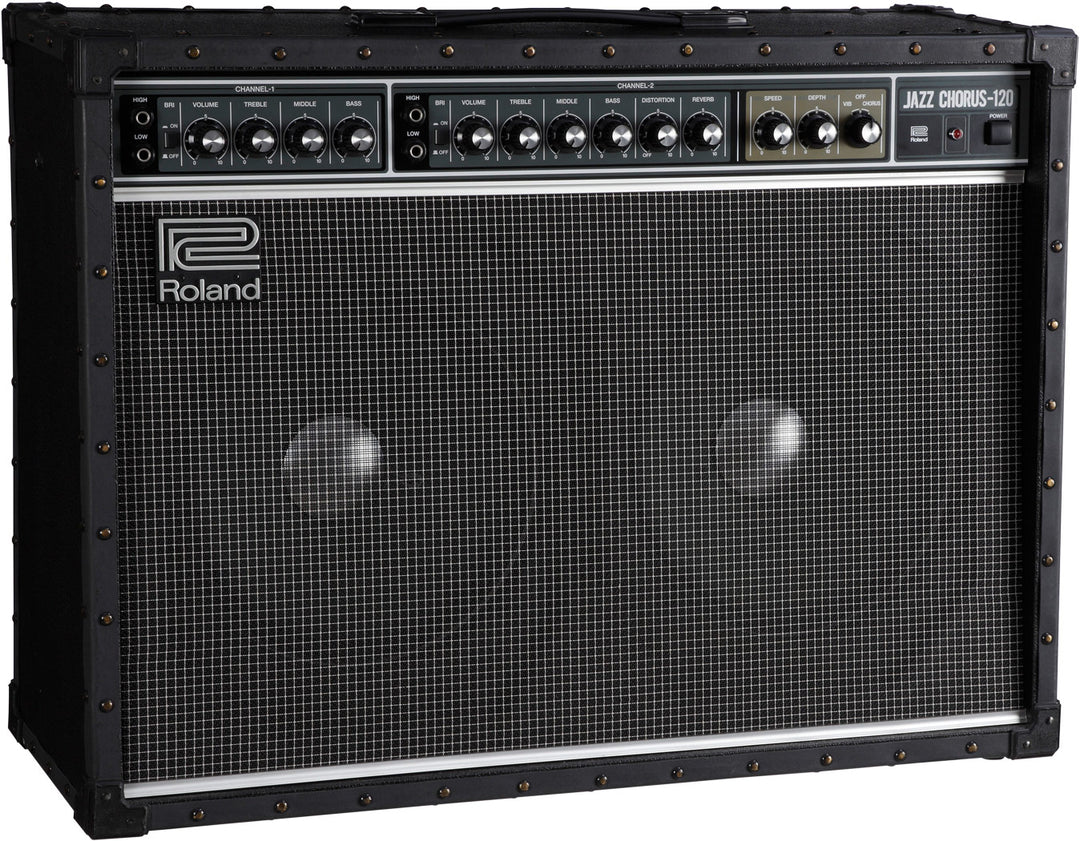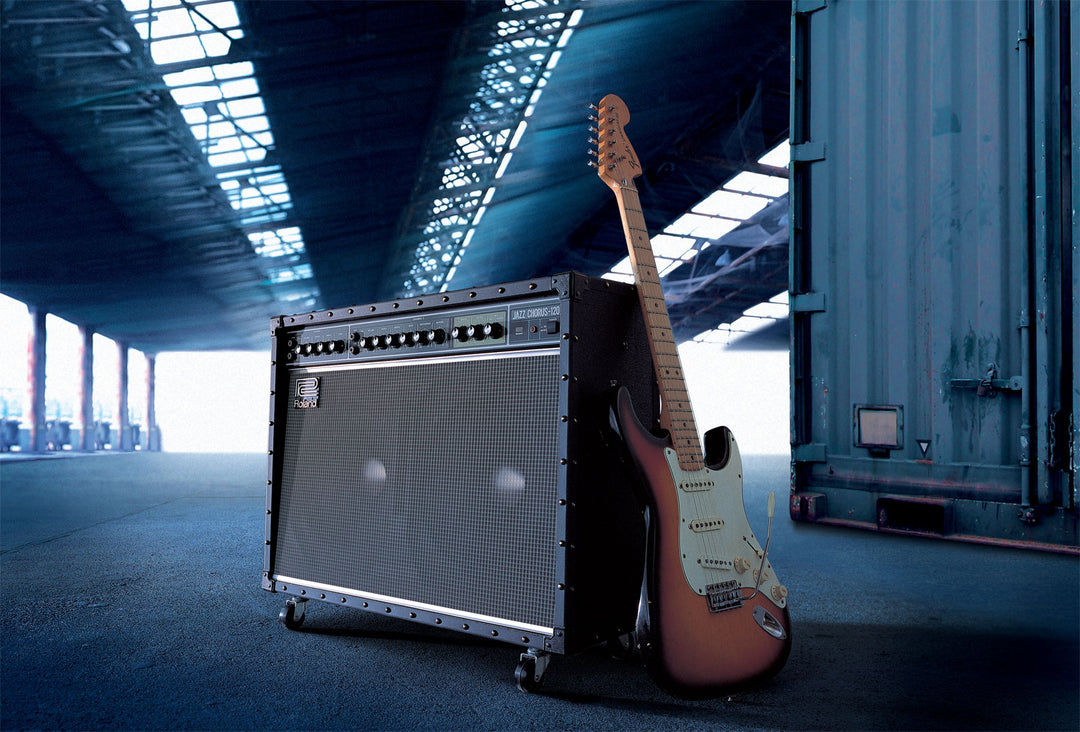 Roland JC-120 Jazz Chorus (406)
ZOI2406
---
In stock, ready to ship

Inventory on the way
FOUR DECADES OF EXCEPTIONAL SOUND
First introduced way back in 1975, the JC-120 Jazz Chorus is one of the few guitar amps that can truly be called a legend. Roland's long-standing flagship is universally recognized by pros as the benchmark in clean guitar sound, and its rich tone and famous built-in stereo chorus effect have been heard on countless popular songs over its long history. Now celebrating 40 years of continuous production and counting, the JC-120 remains the undisputed "king of clean," and the enduring choice of serious guitarists everywhere.
Legendary flagship of the Roland Jazz Chorus series since 1975
Historic "JC clean" tone and signature Dimensional Space Chorus effect
Powerful 120-watt stereo amp with two 12-inch "silver cone" speakers
Two input channels (Normal and Effect), each with three-band EQ and bright on/off
Built-in vibrato, distortion, and authentic spring reverb
Footswitch jacks for turning onboard effects on/off while performing
Stereo effects loop for connecting external effects
An Icon in the History of Guitar Tone
From the beginning, the JC-120 was designed to be the best clean amp ever made. Forty years on, its pure, transparent tonal signature—supported by an integrated stereo amplification system and custom 12-inch speakers—still remains unsurpassed in the guitar world. While other amps have come and gone, the iconic JC clean sound has stood the test of time, relied on by creative players in all genres of music over four decades.
The Original Stereo Chorus Effect
Along with its unique clean tone, the JC-120 is equally revered for its impressive Dimensional Space Chorus effect. While commonplace today, the chorus effect was actually first introduced to the world as part of this very amplifier. Operating in true stereo, the JC-120's chorus still provides a tonal experience like no other, filling the stage with amazingly lush, immersive sound.
Great with Pedals, Multi-Effects, and Amp Modelers
No matter what style you play, the JC-120 has the flexibility and power to deliver the tone you need. It's an ideal platform for shaping sound with stompbox pedals, and it's also great with multi-effects, amp modelers, and guitar synths. The rich JC clean tone preserves the character of your basic guitar sound, perfect for hearing the sound created by your devices. And with three-band EQ on each channel, it's easy to fine-tune your overall tone for any playing space.
Versatile Connectivity
The JC-120's rear panel is filled with connectivity options. There's an effects loop for patching in mono or stereo effects, and you even have your choice of serial or parallel operation. Line Out jacks provide a convenient mono or stereo feed for sending your sound to a mixing board or recorder. There's also support for optional footswitches, allowing you to easily turn the amp's chorus/vibrato, reverb, and distortion effects on/off while performing.
Built to Last
To support its timeless sound, the JC-120 features durable, heavy-duty construction for years of reliable operation. Outlined with oversized, industrial-grade studs and equipped with top-quality casters, hard-fiber edge protectors, and high-impact corner brackets, the JC-120 is built to fully withstand the rigors of the road.
Rated Power Output120WNominal Input LevelINPUT jack: -30 dBu (680 k ohm)Speakers30 cm (12 inches) x 2ControlsPOWER switch

[CHANNEL-1]
BRI (Bright) switch
VOLUME knob
TREBLE knob
MIDDLE knob
BASS knob

[CHANNEL-2]
BRI (Bright) switch
VOLUME knob
TREBLE knob
MIDDLE knob
BASS knob
DISTORTION knob
REVERB knob
SPEED knob
DEPTH knob
VIB/CHORUS switchIndicatorPOWERConnectors[CHANNEL-1, CHANNEL-2]
INPUT HIGH, LOW jacks: 1/4-inch phone type

LINE OUT L/MONO, R jacks: 1/4-inch phone type

[CHANNEL-2 EFFECT LOOP]
SEND jack: 1/4-inch phone type
RETURN L/MONO, R jacks: 1/4-inch phone type
LOOP switch SERIES/PARALLEL
LEVEL switch +4 dBu/-20 dBu

FOOT SWITCH (CHORUS VIBRATO, REVERB, DISTORTION) jacks: 1/4-inch phone typePower Consumption110 WAccessoriesOwner's manualOptions (sold separately)Footswitch (BOSS FS-5L, FS-6, FS-7)SIZE AND WEIGHT( INCL. CASTERS )Width760 mm
29-15/16 inchesDepth280 mm
11-1/16 inchesHeight622 mm
24-1/2 inchesWeight28.0 kg
61 lbs. 12 oz.
Lark Guitars Difference: Lark Guitars takes great pride in making sure your shipment will arrive timely, correctly and as hassle free as possible. With the massive shift to more remote ordering of guitars and instruments, this process can be exasperating at times. It is our goal to minimize any of these feelings, making your transaction from purchase to playing as joyfully possible. For more info regarding our shipping methods, please visit here.
International Shipping:
We ship all over the world, please contact us with any questions you may have or to receive a detailed shipping quote! More info here.