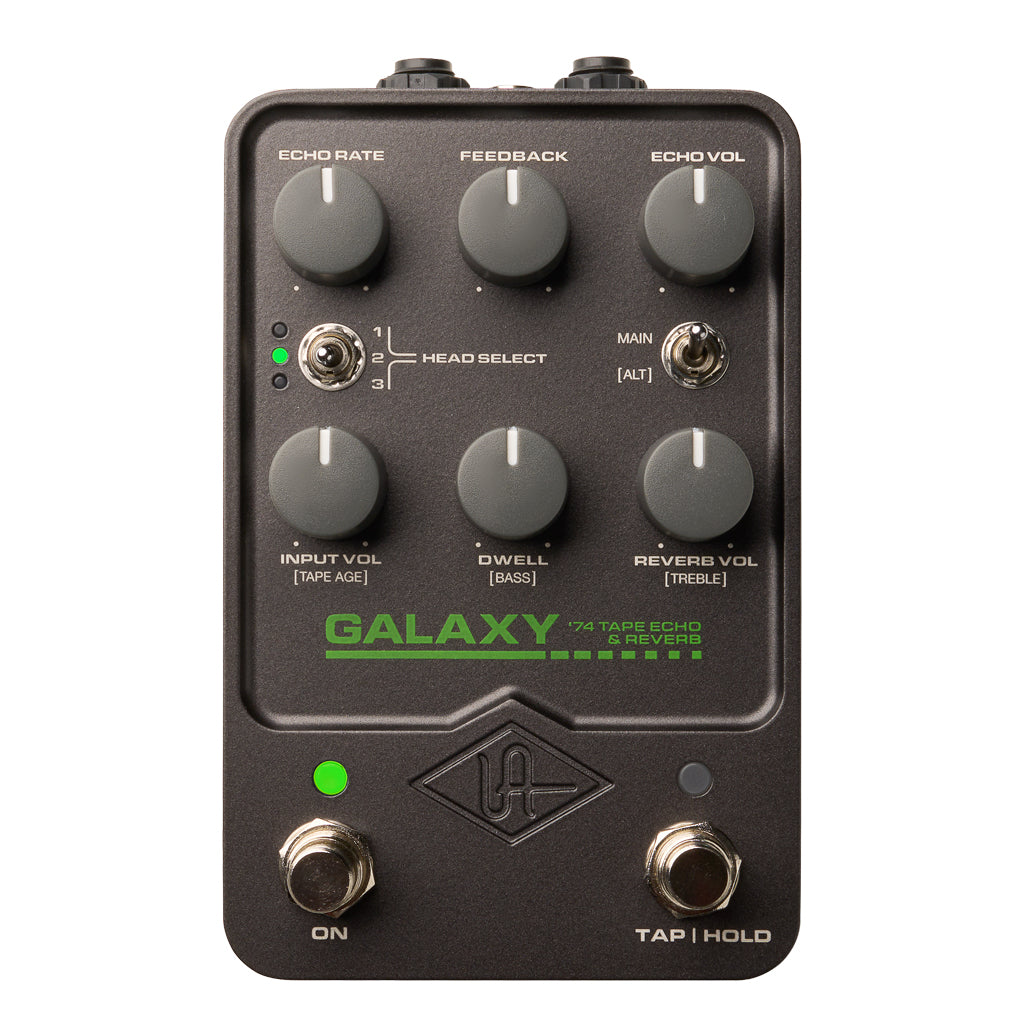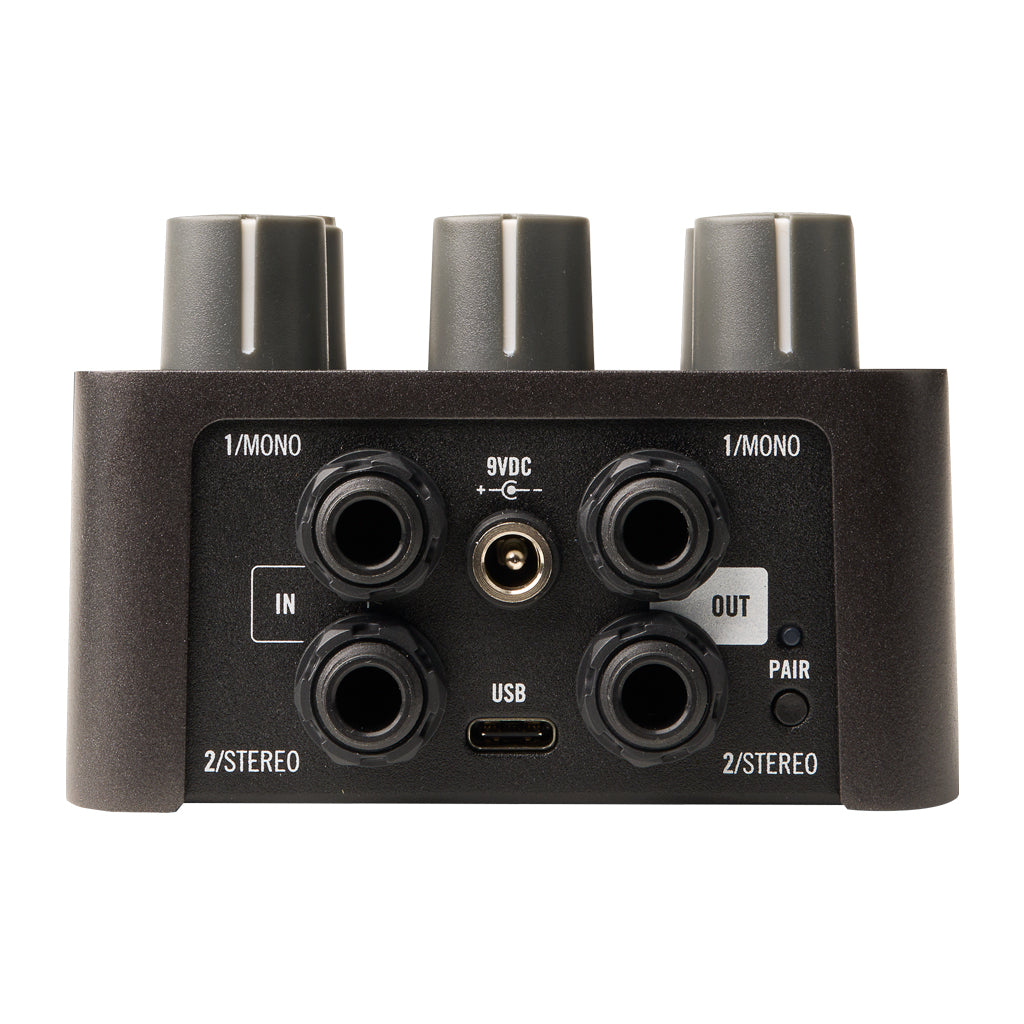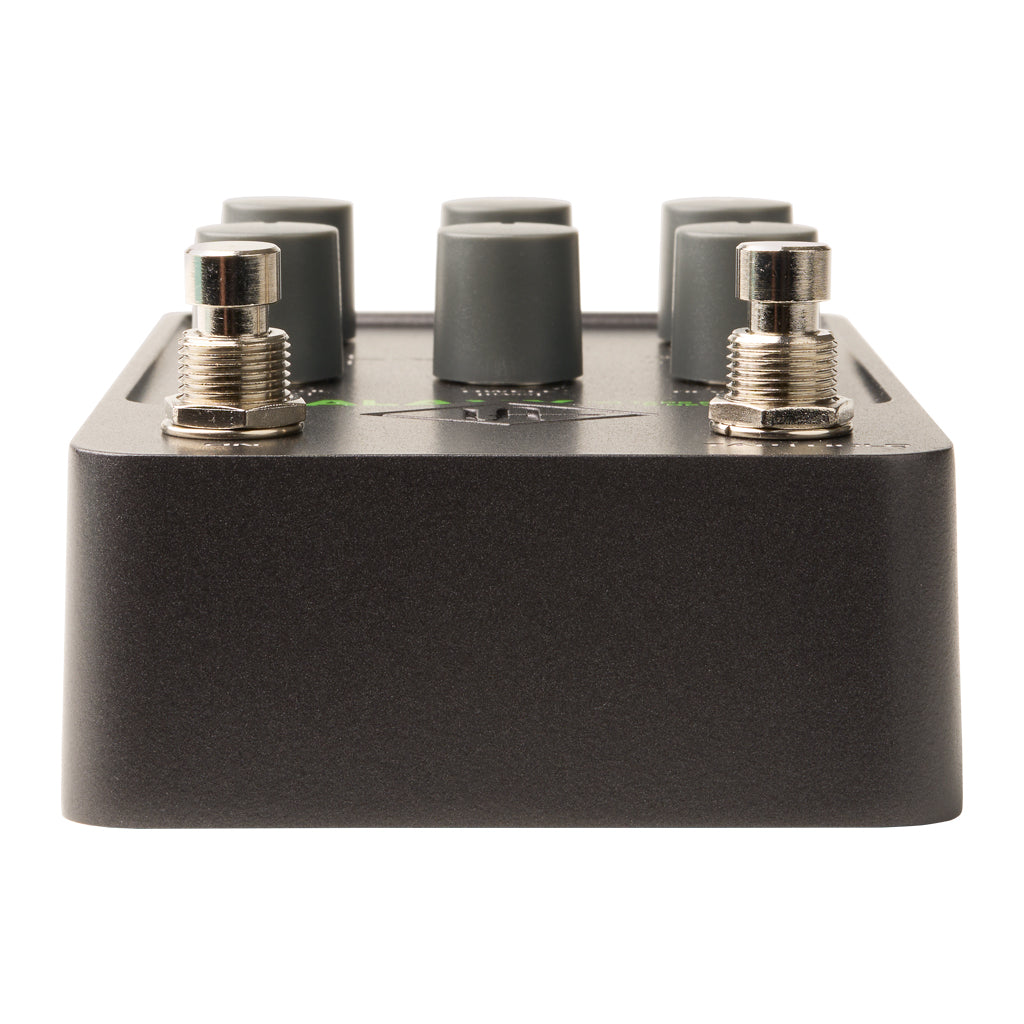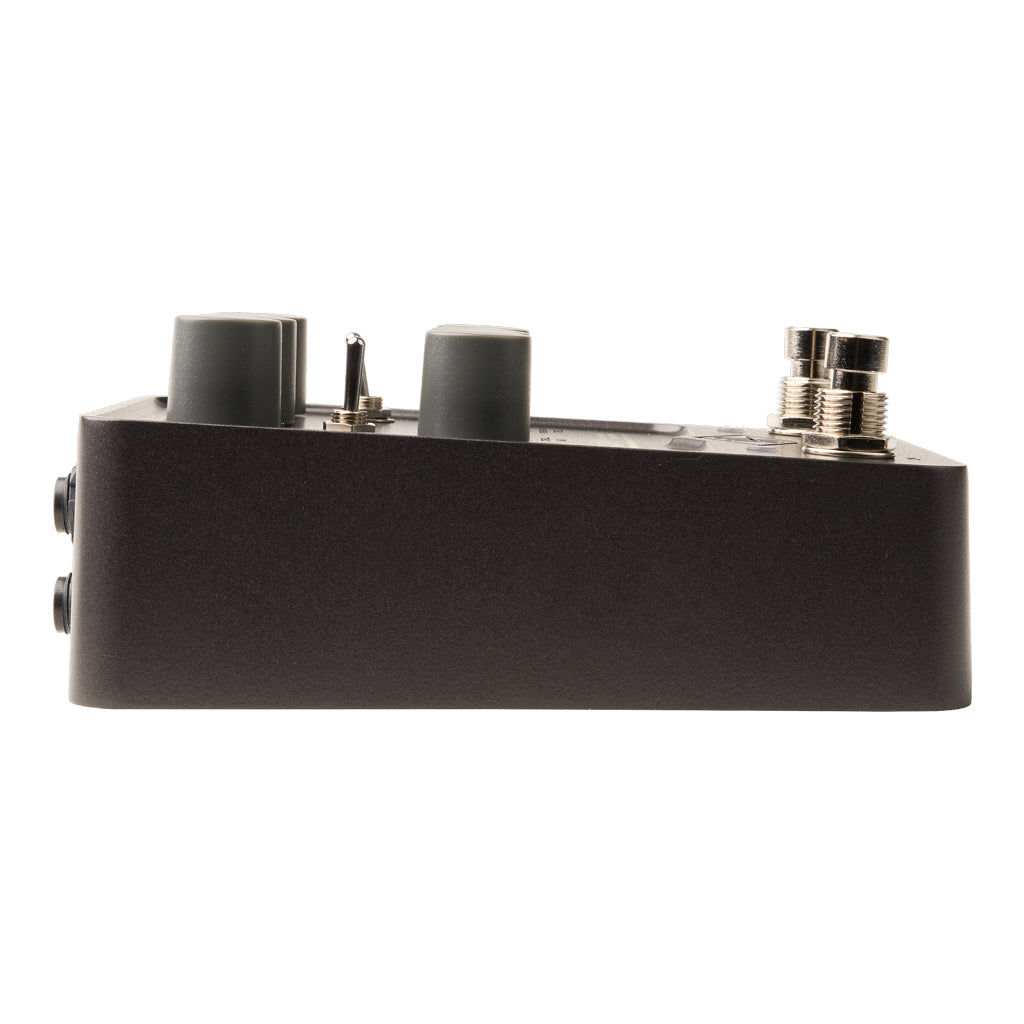 Universal Audio UAFX Galaxy '74 Tape Echo & Reverb
GPM-GLXY
Regular price
$ 349.00
Sale price
$ 299.00
/
---
In stock, ready to ship

Inventory on the way
Stereo delay pedal with classic mid-'70s analog echo effects and spring reverb, tap tempo, and adjustable realtime effects and oscillation sounds via the UAFX Control app.
Product Description
Explore the outer limits of analog time and space.
Built upon award-winning UAFX dual-engine processing and an unquenchable thirst for sonic authenticity, Galaxy '74 Tape Echo & Reverb captures the warm, warped, relentlessly analog effects of the iconic mid-'70s Roland Space Echo* hardware, for a crayon box of lush textures, right at your feet. 
Swim in Warm, Gritty Delay Textures
Get iconic tape textures filled with the musical wow and flutter and saturation of the original Space Echo unit, and use the multi-head design — along with doubled delay times and tap tempo — to create rhythmic subdivisions not possible on the original hardware. You can even bend minds in realtime with self-oscillation for crazy runaway delay effects.
Get Lost in Cavernous Spring Reverb
Only Galaxy '74 gives you the authentic dub-heavy effects of the original's spring reverb — along with a Dwell control for even wilder sounds — hurtling your tone into the cosmos, with textures that leave other emulators of this hallowed hardware behind in a puff of space dust. 
Traverse the Cosmos with Dual Stereo Effect Engines
Galaxy '74's powerful engine runs separate stereo instances of each reverb and delay — for stunning three-dimensional stereo depth that is unmatched by any other stompbox.
Personalize your Pedal with a Mobile App
With the UAFX Control app, you can tweak footswitch settings, adjust realtime effects, and customize unique oscillation sounds to blast your tones into the stratosphere.
*All trademarks are property of their respective owners and used only to represent the effects modeled as part of Galaxy '74 Tape Echo & Reverb.
Note that Galaxy '74 Tape Echo & Reverb requires a modern 400 mA isolated power supply (sold separately).
Key Features
The most authentic emulation of the classic mid-'70s analog Japanese ambience device
Full modeling of the classic multi-head tape delay mechanism
Exacting emulation of original hardware's spring reverb
Definitive capture of iconic analog preamp section
Doubled delay times for effects that go beyond the original hardware
Download the UAFX Control app and tweak footswitch functionality, adjust realtime effects, and customize unique oscillation sounds

 

Silent switching, buffered bypass, analog dry through, spillover/trails, stereo/dual mono operation
Specifications
Power requirements: Isolated 9VDC, center-negative, 400 mA minimum (sold separately)
Inputs: 2 x ¼" TS

 

Outputs: 2 x ¼" TS

 

USB Type-C for updates via computer
Height: 2.56" (6.5 cm)
Width: 3.62" (9.2 cm)
Depth: 5.55" (14.1 cm)
Weight: 1.24 lbs (0.567 kg) 
Lark Guitars Difference: Lark Guitars takes great pride in making sure your shipment will arrive timely, correctly and as hassle free as possible. With the massive shift to more remote ordering of guitars and instruments, this process can be exasperating at times. It is our goal to minimize any of these feelings, making your transaction from purchase to playing as joyfully possible. For more info regarding our shipping methods, please visit here.
International Shipping:
We ship all over the world, please contact us with any questions you may have or to receive a detailed shipping quote! More info here.