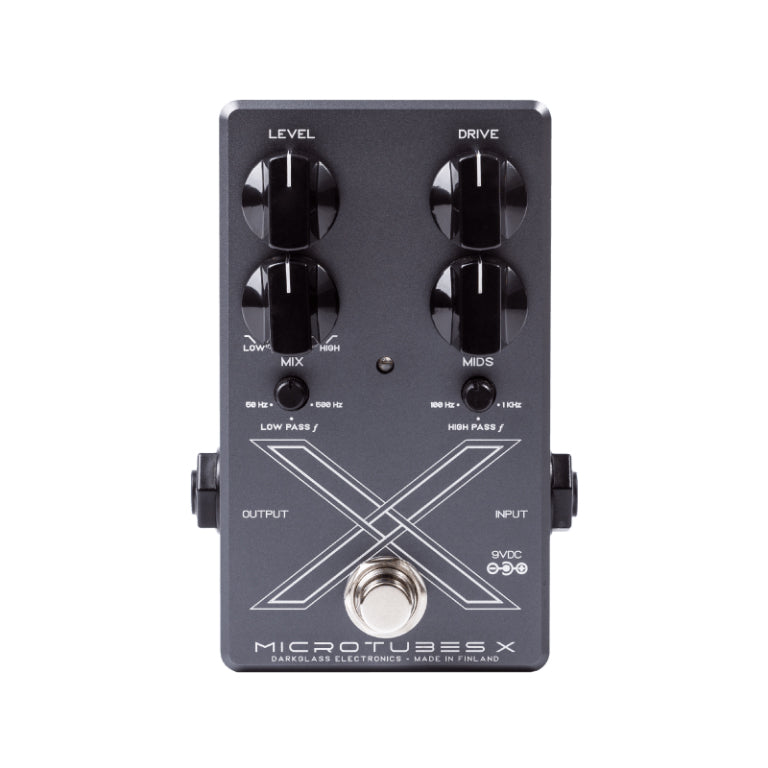 Darkglass - Microtubes X
MIX
---
In stock, ready to ship

Inventory on the way
The Microtubes X series brings the studio method producers have been using the years to cover the whole bass distortion spectrum: from articulate high gain to punchy mild overdrive, raw and gnarly fuzz and everything in between. You now have absolute control in constructing your vision of what the perfect bass distortion texture, definition, and size should have.
Features
High-pass frequency
Controls the cutoff frequency to be distorted, ranging from 100Hz (for thicker, fuzzier saturation) or 1kHz for ultra-sharp definition.
Low-pass frequency
Controls the cutoff frequency to be mixed back to the high-pass side. Ranging from 50Hz (for only sub-bass) and 500Hz to preserve some clean mids.
Level
Sets the overall output volume of the unit.
Drive
Sets the amount of distortion for the high pass side.
Mix
Sets the blend between low-pass and high-pass signals.
Mids
Active mid control placed after the Mix control. +-12dB @ 500Hz.
DIMENSIONS
75x111x43 mm (2.95x4.37x1.77 in)
WARNING: The Microtubes X has a current draw of 30mA. Only use a regulated 9V DC adapter with a center-negative plug. Due to ecological reasons, it does not accept batteries. Unregulated power supplies and/or higher voltages may result in suboptimal noise performance and even damage your unit, voiding the warranty.
Lark Guitars Difference: Lark Guitars takes great pride in making sure your shipment will arrive timely, correctly and as hassle free as possible. With the massive shift to more remote ordering of guitars and instruments, this process can be exasperating at times. It is our goal to minimize any of these feelings, making your transaction from purchase to playing as joyfully possible. For more info regarding our shipping methods, please visit here.
International Shipping:
We ship all over the world, please contact us with any questions you may have or to receive a detailed shipping quote! More info here.