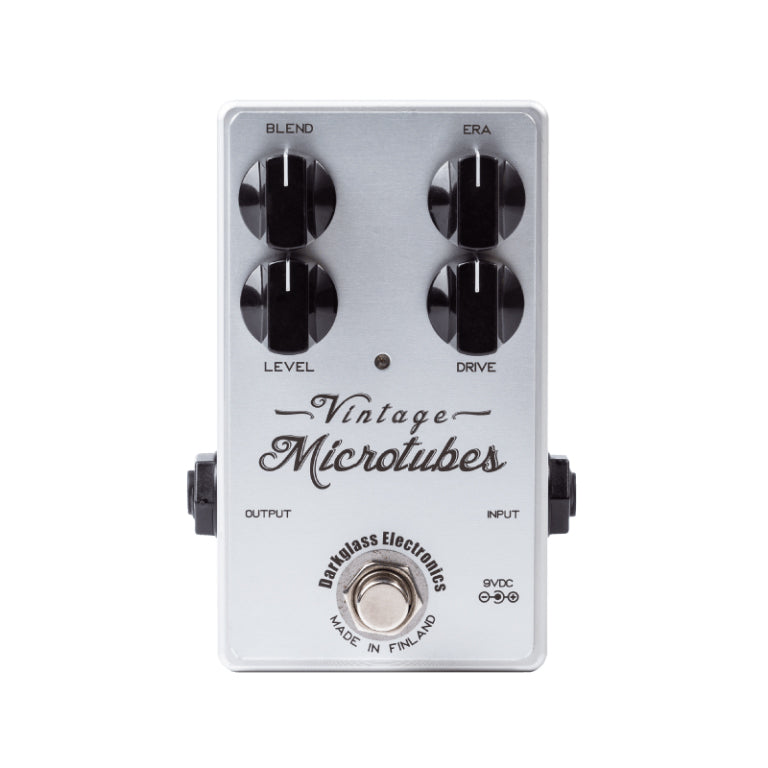 Darkglass - Vintage Microtubes
VMT
---
In stock, ready to ship

Inventory on the way
The Microtubes Vintage is our tribute to some of the most legendary sounds in rock history. It provides warm tube-like tones with a natural dynamic response that echoes the organic compression of old tube amps and reel-to-reel tape machines.
Features
Level
Sets the volume of the overdriven signal.
Drive
Sets the amount of saturation in the overdriven signal.
Blend
Mixes the clean input signal with the overdriven signal. The clean signal remains at unity gain while the volume of the overdriven signal is set by the Level knob, allowing for fine control of the blend ratio.
Era
Interacts with the Drive knob to shape the character of the pedal. Dial it down to get the warm midrange tones of the 70s or crank it up to get the punchy metallic tones of 80s and 90s rock.
DIMENSIONS
11.3×7.5 cm (4.45×2.95 in)
WARNING: The Vintage Microtubes has a current draw of 20mA. Only use a regulated 9V DC adapter with a center-negative plug. Due to ecological reasons it does not accept batteries. Unregulated power supplies and/or higher voltages may result in suboptimal noise performance and even damage your unit, voiding the warranty.
Lark Guitars Difference: Lark Guitars takes great pride in making sure your shipment will arrive timely, correctly and as hassle free as possible. With the massive shift to more remote ordering of guitars and instruments, this process can be exasperating at times. It is our goal to minimize any of these feelings, making your transaction from purchase to playing as joyfully possible. For more info regarding our shipping methods, please visit here.
International Shipping:
We ship all over the world, please contact us with any questions you may have or to receive a detailed shipping quote! More info here.